Windows 10 to get a virtual touchpad for external displays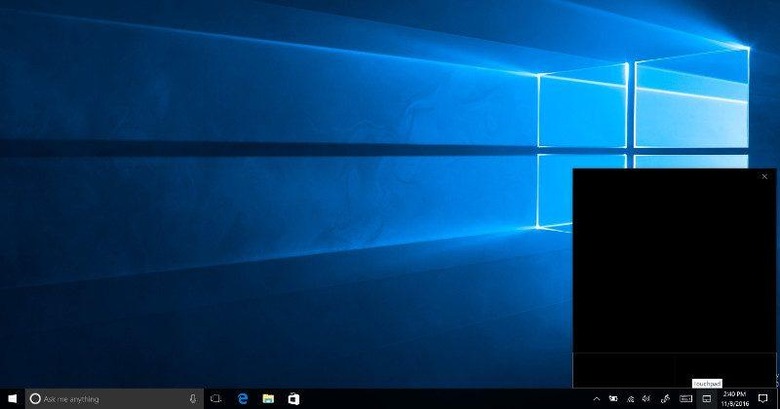 Although still not as widespread, it is no longer uncommon for computer users to face more than one screen at a time, whether in a more permanent multi-monitor setup or in an ad hoc presentation. Controlling external screens and projectors are no problem for desktops and laptops but can be cumbersome for tablets. Soon it won't be. Microsoft's latest Windows 10 Insider build showcases a new Virtual Touchpad feature that would allow users to navigate external displays using their tablets, even without a mouse attached.
While tablets are, of course, built for touch, not all Windows software are. Some still require the precision and buttons of a mouse, which is where touchpads come in, which are totally absent on Windows tablets (unless they happen to be a 2-in-1). In Build 14965 of Windows 10 for Insiders, Microsoft introduces a virtual touchpad to make that possible. The option can be enabled on the taskbar when users go into Projection mode. Tapping on the icon will toggle the touchpad on or off, and using it is like any other touchpad. Except it's on the screen.
Of course, that's not the only thing in this latest Windows 10 build, which will be generally available to everyone in the upcoming Creators Update. Perhaps of more interest to all users, be they desktop, laptop, or tablet, is Sticky Notes' expanded support for other markets. In particular, intelligent features like Flight Detection is available in Germany, Canada, UK, India, Spain, Mexico, France, Italy, Japan, and Brazil. Features like e-mail, URL, and phone number recognition are also being made available to users of other languages.
Windows 10 Build 14965 is also available for mobile, though the changes there are probably less exciting, most of which are bugfixes and security improvements. Of course, better that than nothing.
SOURCE: Microsoft