Windows 10 tipped to support 8K resolution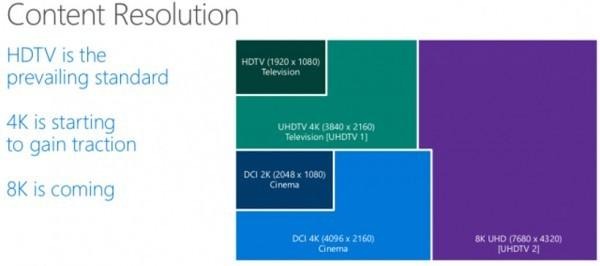 Most of us still have 1080p TVs and computer monitors in our homes and have yet to step up to a 4K TV or monitor. Many are holding off on stepping up to higher resolution screens until the prices come down. Word has surfaced that when Windows 10 launches, Microsoft's operating system will be ready for displaying content at higher resolution than 4K.
Windows 10 has been tipped to launch with support for resolution up to 8K right out of the box. The report comes from the Microsoft WinHEC presentation that was offered last week. During that presentation, Microsoft talked about its plans for content creators and media companies.
Current full HD resolution is 1920 x 1080 while UHDTV 4K uses a resolution of 3840 x 2160. By comparison, 8K UHD resolution is 7680 x 4320. That is a lot of resolution and I would imagine video games and other content would look good at that resolution.
We can also assume that your PC will need some serious graphics power to support gaming and other content at 8K resolution. Some games can still bring PCs to a crawl at HD resolution with all the goodies turned on. White Windows 10 might be ready or 8K, odds are when it launches 8K screens won't be ready for consumers, at least at a price most can afford. Microsoft is looking to the future since it knows that people tend to use an OS for 5-7 years.
SOURCE: Extremetech