Windows 10 S Mode details confirmed and explained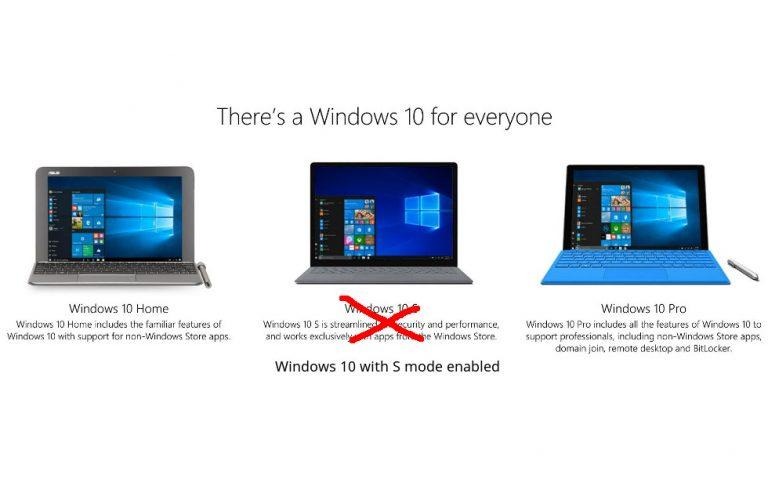 When Microsoft announced Windows 10 S, along with a small army laptops aimed at education and business markets, it wasn't exactly surprising. Microsoft was on a quest to reclaim lost market share from Google's Chrome OS. Microsoft's messaging, however, had customers scratching their heads in confusion. To end that confusion, and complaints about fees for "upgrading" from Windows 10 S to Windows 10 Pro, Microsoft is simplifying its strategy and is simply calling it an "S mode" available to all Windows 10 editions soon.
Windows 10 S was practically a locked-down version of Windows 10 that offered administrators more control over what happens to computers running that version of Windows 10. It only allowed installing apps from Windows Store but if you wanted the full experience, you could upgrade to Windows 10 Pro for a few (though that was initially waived for a short time).
Microsoft Corporate VP for Windows Joe Belfiore said that while the idea was very much welcomed by customers and partners, its naming left them confused. Given how many new Windows 10 variants Microsoft just announced, they can't really be blamed. So now there will be one less edition to memorize. Windows 10 S will not be a distinct edition but will simply become an "S mode" configuration. So the full name will be "Windows 10 with S mode enabled".
It's not just a mouthful of a name change, however. The details also change in a significant way. Being simply a mode, it can be turned on or off, depending on the user or administrator. Of course, there will be laptops that will be sold with those enabled by default, practically the equivalent of the current "Windows 10 S" laptops.
But most importantly, since it's just a mode now, switching back to "normal" Windows 10 no longer requires paying a fee. And you can switch to Home, Pro, or Enterprise, depending on what the original S mode was. These changes will only take place in the next Windows 10 major update, which doesn't have a set date yet.
We use Win10S as an option for schools or businesses that want the 'low-hassle'/ guaranteed performance version. Next year 10S will be a "mode" of existing versions, not a distinct version. SO ... I think it's totally fine/good that it's not mentioned.

— Joe Belfiore (@joebelfiore) March 7, 2018