Windows 10 S gotchas you need to know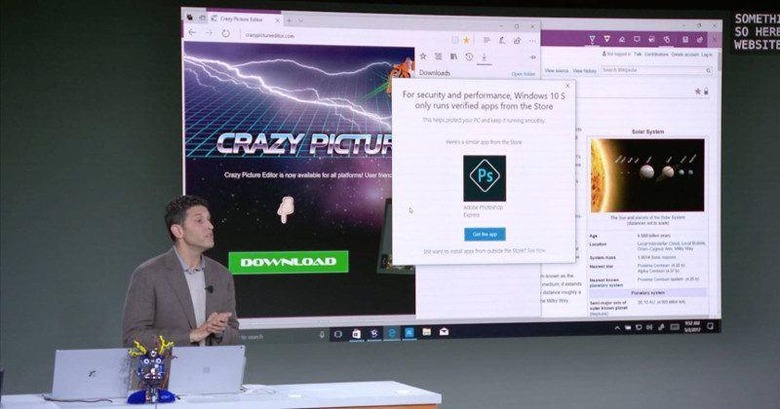 Microsoft just made an aggressive and rather daring attempt to reclaim its spot in the education sector. A new class of laptops, with prices ranging from $189 to $2,199, was born, and at the heart of it is Windows 10 S. Call it Secure, Streamlined, or Stunted, this new flavor of Windows 10 S is designed to sing to educators and system administrators. But, almost like a siren's song, it comes at a cost. So before you set your eyes and your heart on it, here are a few hidden traps in Windows 10 S you might want to be aware of.
You're stuck with Microsoft Edge and Bing search
Windows 10 S is designed to be the most locked down version of Windows 10 ever. Well, not ever, because we've seen that in the Windows RT before. Only time will tell if Windows 10 S will suffer the same slow, painful, and ignominious death, but for now, there is one other limitation you need to be aware of.
In addition to limiting the apps that you can install, Microsoft is also putting some limits on the settings you can change. Specifically, you won't be able to change the default browser from Microsoft Edge nor change its default search engine from Bing. So, yes, you can install Chrome from the Windows Store, but it will always be a second class citizen on Windows 10 S.
You're only way out is a $50 Pro upgrade
If there comes a time, in the not so distant future, when you do want to finally switch to a different browser, or you need to install some "legacy" Windows program outside of Microsoft's store, you do have an option.
Microsoft offers Windows 10 S owners a one-time chance to upgrade to Windows 10 Pro. But you can't cheat because it's not going to be free. Microsoft will charge you $50 for your "get out of jail" ticket, but there is one very important caveat to this offer of freedom.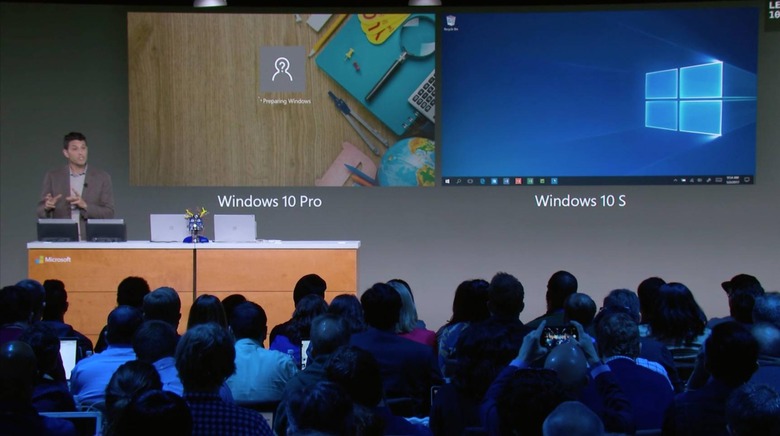 It's a one-way street out
Once you Pro, you can never go back. That is, once you upgrade to Windows 10 Pro, you will not be able to downgrade back to Windows 10 S just because you feel like it. It is almost like a punitive action for trying to escape from the safe, walled garden of Windows 10 S.
It does raise the question of why you'd do that anyway. Or rather, why buy a low-end Windows 10 S device only to upgrade it later to Pro. Perhaps it's an afterthought, though the Windows 10 S device might not be able to comfortably run the desktop software that required Windows 10 S to be upgraded in the first place. Some might also try to get Windows 10 Pro on the cheap by buying a $189 Windows 10 S laptop and then upgrading it for $50. Microsoft, however, might have checks to keep people from gaming that process.
It can run on any Windows hardware, but it won't
In theory, Windows 10 S can run on any Windows-compatible hardware. That means a Windows 10 PC, laptop, tablet, or whatnot. After all, if it can be upgraded to Windows 10 Pro, it has to be compatible with devices that can run Windows 10 Pro. Can you imagine the benefits of, say, assembling your own fleet of computers and then locking them down with Windows 10 S? Except it's not going to happen.
Microsoft won't be selling Windows 10 S the way it sells Windows 10 Home and Pro. That is, you can't simply buy a Windows 10 S license and install it on any computer of your choosing. The only way you can get Windows 10 S will be by buying a Windows 10 S device, which, for now, is limited to laptops sold by Microsoft's OEM partners. So forget using recycled desktops for your small school and installing Windows 10 S on it. You'll have to buy new ones.
You don't need $999 for it
The slightly good news is that there is a lot of Windows 10 S laptops to choose from. While Microsoft would, of course, prefer if you bought its Surface Laptop, not everyone will be so willing to put in $999 for one, no matter how beautiful or powerful it is.
Microsoft knows that it needs a lot cheaper Windows 10 S devices if it ever wants to compete with Chromebooks and Google's Chrome OS. That is why it has allowed its hardware partners to offer all sorts of laptops with all sorts of prices, with prices starting at $189. Truth be told, they are all nearly identical in terms of specs, differing only in design and brand. There could be beefier devices in the future but, for now, if you want a powerful Windows 10 S laptop, you'll have to go with the Surface Laptop.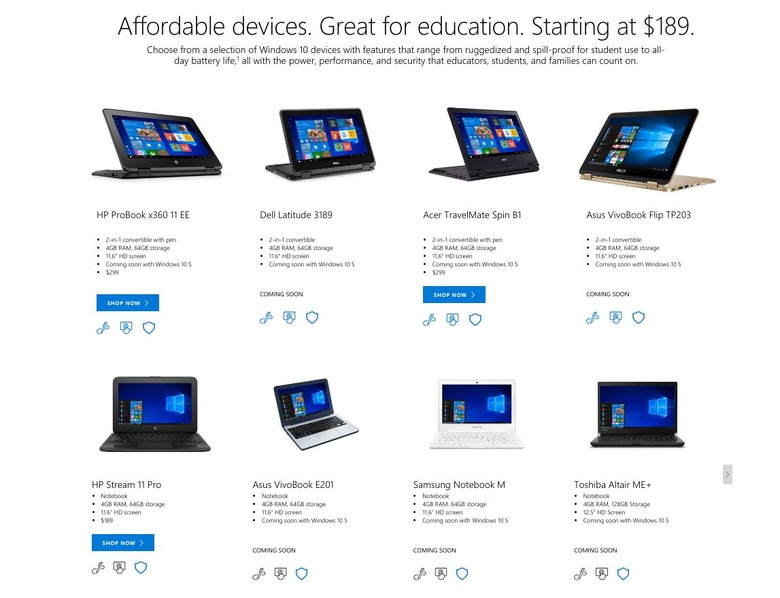 It'll get a better version of Office, but you'll have to wait
One of the biggest questions about the Windows 10 S is its apps situation. But unlike consumer computers, tablets, and smartphones, having access to almost every app in existence is actually more harmful to school deployments. Schools and academic organizations actually prefer locked down operating systems. Still, that brings up the question of productivity apps, namely Office.
Here's the good news: a more capable version of Microsoft Office is coming to the Windows Store. The current versions of Word, Excel, and Power Point in the Store are but shadows of themselves. In other words, nothing students will want to use. Of course, the full Office 365 suite is still a different beast, which doesn't exactly make things less confusing. You'll also have to wait for this to happen, as Microsoft doesn't plan on rolling out the better but not full Office to the Windows Store until June or even later.
It's not going to beat Chrome OS (yet)
Of course, it's still too early to tell, but the Windows 10 S that Microsoft revealed is going to need a few more rounds of polish to even be considered competitive against something like Chrome OS. Microsoft does indeed have the advantage of a familiar suite, but that advantage has waned in the past years and will no longer be enough.
The world has moved to the Web, and that goes even for schools. And when it comes to the Web, Google is the undisputed king. Chrome OS provides not just a gateway to the Web but an environment that nourishes that kind of interaction, from web apps to browser extensions. In contrast, Microsoft's latest Web browser has yet to catch up with the big players.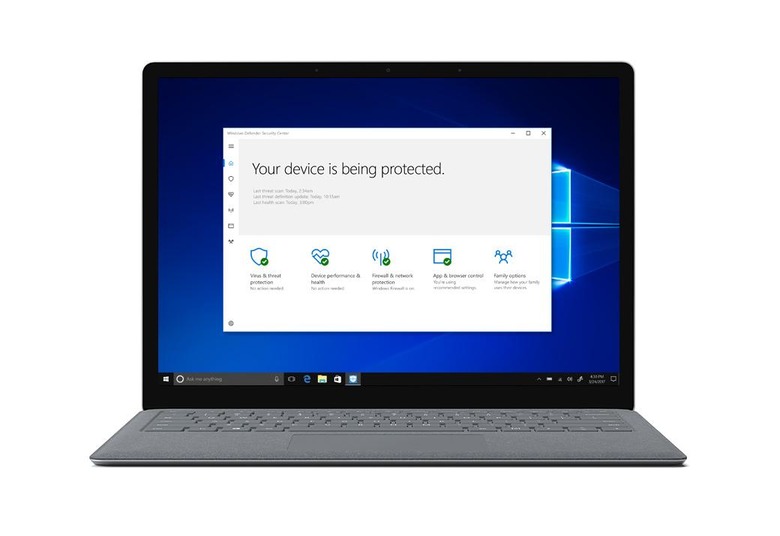 Chrome OS is also still regarded as having a better remote management system. It was designed from the ground up exactly for that purpose. Windows 10 S, on the other hand, is coming at it from the opposite end, locking down a full featured OS rather than building one that, by nature, is restricted and can be easily managed remotely.
Lockdown is also the biggest difference and the biggest question mark on Windows 10 S. It arrives at a time when Google is doing the exact opposite and is opening up Chrome OS to more apps, Android apps to be exact. Ironically, that is also Chrome OS's current biggest problem, with the slow rollout and disappointing performance of these Android apps. Despite that, there are arguably more, and perhaps better, apps and experiences available via Chrome extensions than there are on Windows Store, which still lacks some popular apps and services.
Wrap-up
Microsoft might actually have a better chance at competing on this market segment than it did in the mobile market. The locked down, some might say crippled, OS is actually more appealing to schools and system administrators, where the lack of popular apps is not only not a problem but more ideal even. With OEMs onboard with super affordable devices, Windows 10 S might have a chance of giving Google a run for its money.
Microsoft, however, faces an uphill battle. Not only is it very late to the party, it also runs the risk of diluting its otherwise focused message. Already, there is some confusion on the Internet over what Windows 10 S really is. If it's aimed at schools and students, why have a Surface Laptop that very few can afford? If it's also targeting the enterprise, its Windows Store restriction will prove to be problematic for enterprise software. Considering Windows 10 S isn't even a day old, it might take a while for Microsoft to answer these questions. But in a fast-moving industry, needs to move just as fast.