Windows 10 OEM Pricing and Release date spotted on NewEgg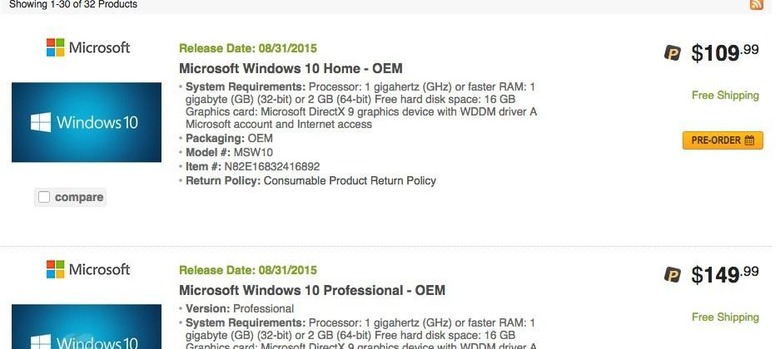 We may receive a commission on purchases made from links.
While users of Windows 7 and Windows 8 will be getting free upgrade to Windows 10, many DIY builders will have to buy licenses at retail. Online retailer NewEgg is now taking pre-orders for Windows 10 OEM. Although Microsoft has not officially announce the shipping date of Windows 10 yet, NewEgg has posted a shipping date of August 31st.
As for pricing – Windows 10 Professional OEM goes for $149.99 while Windows 10 Home OEM will cost $109.99. These prices are quite close to Windows 8.1 licenses. There is a chance NewEgg listed these pricing and release dates by accident and while you can successfully proceed to pre-order on the retailer's site, pricing and release dates could still change.
Windows 10 is deemed to be a growing pain fixes for Windows 8 sore points. The capability of switching between tablet and PC mode without much UI alteration made Windows 10 a truly hybrid PC/Tablet OS.
Many entry-level Windows Tablets are only equipped with 32GB of storage – The slimmed down Windows 10 will be a welcome change as it takes 6.6GB less storage space than its predecessor. I for once am looking forward to the final release after experiencing a very positive experience on Windows 10 Technical Preview.
Source: NewEgg