Windows 10 Mail & Calendar apps updated with Focused inbox and more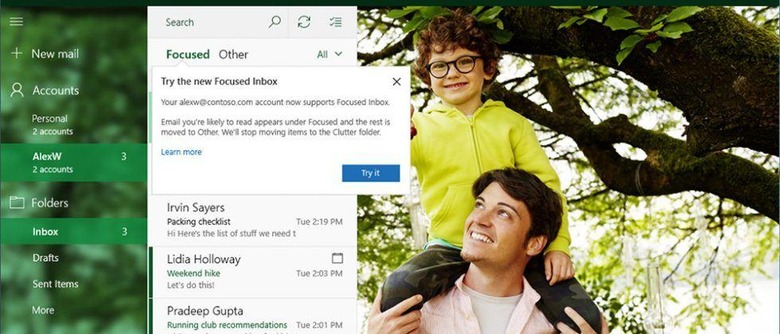 Microsoft has announced some new updates for the Windows 10 Mail & Calendar apps. Says the company, Windows 10 users are gaining access to 'Focused' and 'Other' tabs in Mail that some Outlook users enjoy today, splitting one's email in such a way that only the relevant things are shown in 'Focused' and everything else is accessible later under 'Other.' This feature is joined by several more.
If you don't like the Focused inbox option, you can always turn it off by heading into "Settings" and then "Reading" within the app. You can also adjust what emails end up in Focused using the "Move to Focused" and "Move to Other" tools. Joining the focused inbox is a new option for mentioning contacts within emails using the trusty ole "@" symbol.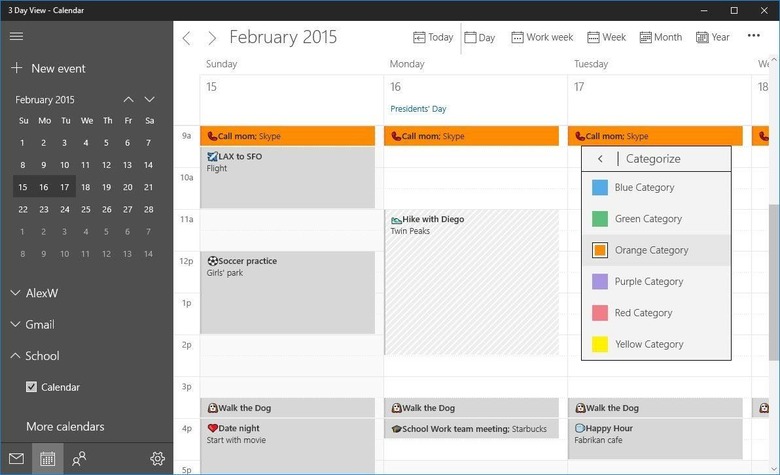 In this case, Mail users merely type @ before someone's name within the body of the email. A drop-down list of one's contacts will appear. Select the person you want to mention and their name will be highlighted in blue in the email, making it easier for them to spot. They will also be automatically copied in on the email chain if they're not already listed in the "To:" field.
Meanwhile, Calendar users are getting access to color categories, making it easier to scan through a calendar and pinpoint particular things via their color codes. This has been a majorly requested feature, according to Microsoft, and not surprisingly so — you can find this same feature is most other competing calendar apps.
Also speaking of Calendar, users can now also favorite events and certain schedules. This is made possible via the addition of "Interesting Calendars" where users can, for example, keep track of something like a basketball season or a TV schedule with the app. As well, Calendar is also getting improved travel tracking and reminders.
Finally, Microsoft says there are more small improvements that will round out the user experience. These include things like location suggestions for adding addresses within emails, scheduling assistance, a people and emoji picker, and other general improvements.
SOURCE: Windows Blog