Windows 10 Mail and Calendar apps get Gmail support for advanced features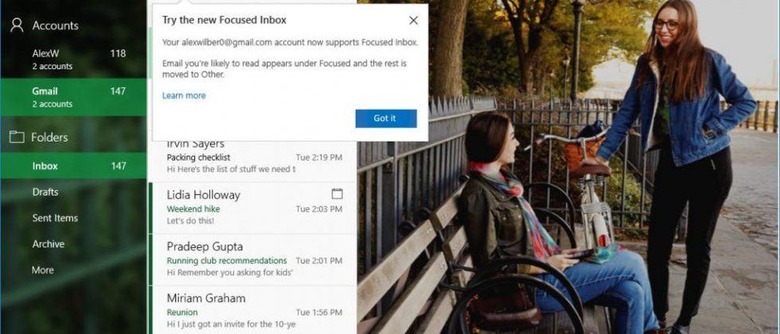 Microsoft has gradually been updating the default mail and calendar apps in Windows 10, turning them into viable alternatives for users who prefer desktop clients to those on the web. This includes the most recent update from February, which introduced the Focused Inbox feature, automatically detecting important emails and presenting them first. Now Microsoft has announced that it's allowing users with Google and Gmail accounts to take advantage of these new features.
Until now, Focused Inbox, along with travel reservation reminders and package tracking in the calendar app, have been limited to users with Outlook.com and Office 365 accounts. Not everyone can just start using their Gmail account with these features, however, as Microsoft is gradually rolling out support to Windows Insiders first, with a general release for all users to come a few later.
In a blog post announcing the news, Microsoft says among the advanced mail and calendar features Gmail users can look forward to are "easily tracking travel and shipping deliveries, making emails more actionable, helping you easily track your favorite sports events, faster search, and more."
It's also noted that for these Windows 10 features to work, Microsoft's apps will need to sync a copy of users' email, contacts, and calendars to its servers, allowing them to scan and search for the necessary information from Gmail. Any changes made in the desktop apps, like writing new emails, editing a contact's details, or making a new calendar event, are synced back to a user's Google account, and their experience on Gmail.com or in Google's own apps will not be changed.
SOURCE Windows Blog