Windows 10: first look at new Mail, Calendar apps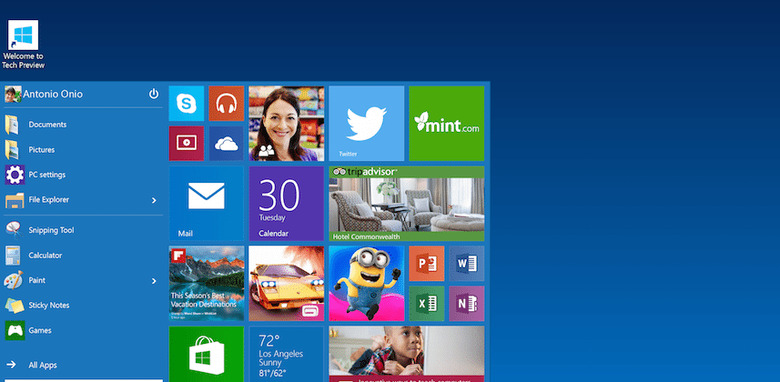 As the future release of Windows 10 draws nearer, Microsoft continues to make progress by releasing regular updates to its preview program. As is often the case in these situations, test users turn up settings and features that won't be fully fleshed out until a later version of the preview. But sometimes, entire version builds are leaked into the wild early, offering first looks at revamped designs and new apps. That appears to be what's happened with Windows 10, as we're seeing some of the first images of the operating system's new Mail and Calendar apps.
It's not clear how this preview version of Windows 10 was leaked or by who, but The Verge was one of the first to get their hands on it, currently identified as build 10051. At first glance, it's easy to see that Mail and Calendar are similar to what Microsoft displayed at its January Windows 10 event. They have been polished to match the look and feel of the new operating system, and are definitely a step up from the Windows 8.1 version of the apps. It's very likely these will appear in the next official preview in order to be widely tested.
While the Mail app is currently just named "Mail," we should expect to be renamed to Outlook in the near future, as the look and feel of the app borrows heavily from the latest mobile versions for iOS and Android. Swipe gestures are one such feature migrating to Windows 10, assuming you're running on a device with a touch screen.
As for Calendar, the biggest addition is full support for Google Calendar, a feature that was sorely missing from the Windows 8.1 app. The app itself is a bit more colorful than what we've seen on previous versions of Microsoft operating system, and on the whole fits better within the Office suite of apps. The one odd issue at this point is that Calendar remains a standalone app, and isn't yet integrated into Mail. As Outlook has a focus on bringing mail, contacts, and calendars together, the two new apps will surely be integrated in the future.
SOURCE The Verge