Windows 10 Creators Update is now officially rolling out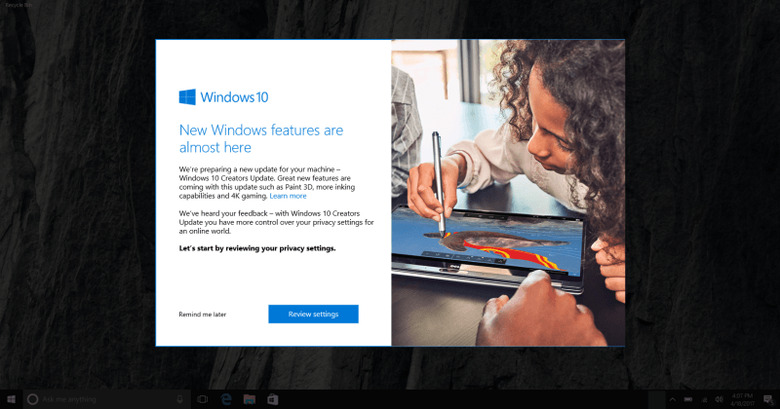 Let a thousand updates bloom! Microsoft has just finally fired off the release engines to bring the latest major update of Windows 10 to the general public. Of course, it's not as big a jump as Windows 8.1 to Windows 10 considering Microsoft's new found path of rolling updates, but it's a significant one nonetheless. Microsoft has already been teasing and revealing what users can expect so there are very few surprises. At least the positive ones. So far, the rollout hasn't yet been met with botched updates and broken systems, so we'll keep our fingers crossed.
Unsurprisingly, Microsoft has a very long list of new features and changes that comprise the perhaps misnamed Creators Update, but we can highlight a few that center on gaming, the Edge browser, and privacy. Ironically, nothing related to content creation, except perhaps for Windows 10's new found 3D capabilities, exemplified in Paint 3D.
Although Windows PCs have long been more gaming-friendly than its other desktop OS counterparts, like macOS and Linux, Microsoft is stepping up its game, so to speak, in the latest Windows 10 version. Game Mode has already been explained before as a way for Windows to reallocate more hardware resources to compatible games. The Creators Update also brings built-in gameplay streaming via Beam, taking on Twitch.tv and YouTube Gaming.
Microsoft Edge is also getting a major facelift. It still looks minimal but it is now loaded with built-in, not plugin, features. You can now set aside a whole group of tabs for later, for example, and have a pretty overview of open tabs so you can quickly identify them at a glance. Edge also gains the ability to read ebooks, in line with Windows 10's new book store and book reading support. And, of course, Microsoft is taking the opportunity to boast how more energy efficient Edge is compared to its rivals.
While Windows 10 doesn't exactly change Microsoft's privacy policies, the Creators Update tries to make them more understandable. Easier to read text will be presented both when upgrading from an old Windows 10 version as well during installation of a fresh system. As for the update itself, users have the choice of waiting for the notification to arrive on their PC or trigger the process manually from Microsoft's Software Download Site.