Windows 10 build 9901 leak: prettier Cortana, better Modern UI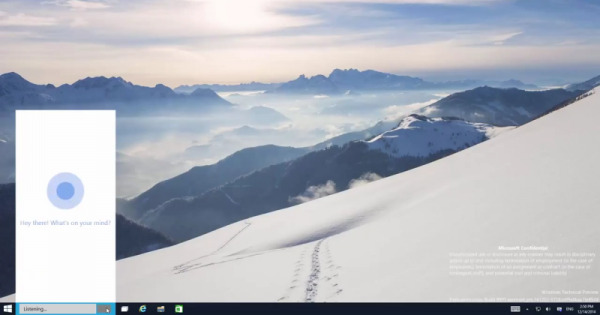 It is still a good month or so before Microsoft unveils the Consumer Preview of Windows 10, formerly known as Threshold, and it will still be a few months before consumers can actually get their hands on it. But if the features and changes that are being showcased in this leaked build of Windows 10, specifically build number 9901, then consumers might indeed want to get their hands on it, in contrast to the rather divisive Windows 8.
As seen in a previous leak, Cortana makes its way to the desktop. However, Cortana back then was rather plain and unexciting. This time around, she has been dressed up to more closely match the Modern style of Windows 8, while still bearing marks of her origins on the Windows Phone. Getting to Cortana is now easier as well. Users can opt to type in their questions on the search box on the taskbar or click on the microphone icon to start a voice conversation with the virtual assistant. Alternatively, Cortana also responds to the "Hey Cortana" trigger. Sadly, she isn't complete yet, and we'll have to wait for the actual Consumer Preview to really see what tricks she has up her sleeves.
Modern apps, both old and new, and there are quite a few new ones, have been given a makeover not just in their looks but also in functionality and where those are found. In particular, for example, the Settings in the system-wide Charms side bar has been removed in favor of embedding the same option inside the app-specific charms, now accessible via the top-left menu button. This makes Settings easier to see and access, versus having to find out later that it's hidden in the Charms. Consequently, the system settings has also been removed from there and now exists as a standalone app.
There are a couple of new Modern UI apps in this latest preview, but perhaps most curious of them all is the new Xbox app. The app has been seemingly redesigned from the ground up, but more than just looks, it has also gained a lot more functionality, which includes almost everything you'd expect to find in the Xbox ecosystem, like friends, achievements, and even game lists. Will Windows 10 be able to play some older Xbox games or will it simply allow users to buy Xbox games from their desktops? Microsoft hinted that there are surprises for gamers in Windows 10, and so we await those with baited breath.
Windows 10 is seen as Microsoft's Hail Mary to regain the footing it lost due to Windows 8's rather mixed reception. It seeks to appease both those who have hated it and those who have learned to love it, though seemingly leaning more towards those who prefer a desktop interface. But will it be enough to undo the mistakes of the past and put Microsoft back in the game? We look to January and the coming months for answers.
VIA: WinBeta