Win a Sidekick LX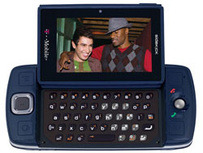 So the guys over at the Sidekick wiki, your source for all things sidekick, are giving away a couple of Sidekick LX's. As I am sure some of you know, the new Sidekick LX is dropping today, the 24th, on T-Mobile's network.
Now T-Mobile his having a bunch of little shin-digs, parties, or other gala events throughout the country, but the Sidekick wiki is just giving two of 'em away. So, what do you have to do to enter to win one of these amazing devices? Sign up, upload a pic or avatar to your profile on their site, and post a comment answering a simple question, I'll leave it to you to check out what that is. Read on for device specs though.

It has the same swivel screen and a QWERTY keypad and is manufactured by Sharp like all the other Sidekicks. It has a WQVGA screen, a web browser with better Java support, mood lights for various messages and organizer reminders. There is a customized MySpace app, a fair amount of various email support options, MMS, SMS, and instant messaging. A 1.3MP cam with flash is also included, along with 128MB microSD card, a built in music player, Bluetooth, myFaves support, quad-band GSM, and GPRS/EDGE data, so go and try and get one for free!
Sidekick LX Sweepstakes [via sidekick.wetpaint]