Willow Garage offers awesome PR2 robot for sale to public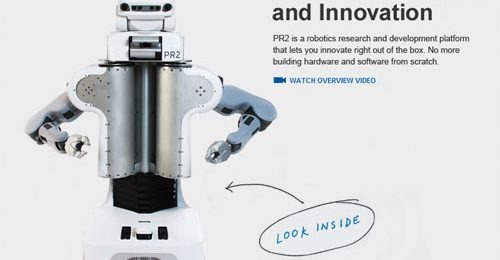 Willow Garage has been working on its cool PR2 robot for a long time now. I still say the bot looks like Rosie from the Jetsons and if it could vacuum my floors and cook dinner, I might want one. That is assuming I can afford one, which I cannot. The PR2 may be available to purchase by any geek wanting their own bot, but the PR2 costs as much as a nice house.
You can get the PR2 if you have an extra $400,000 lying around. For your $400K, you get the PR2 complete with its two arms and grippers and the omnidirectional base. The bot also ships with a full sensor suite that includes a 5MP camera, tilting LIDAR, base LIDAR, IMU, forearm cameras, and gripper tip sensors among others.
The bot's brains are a pair of onboard Xeon servers with eight cores, 24GB of RAM, and a 2TB HDD each. Power is provided by a 1.3kWh battery and onboard chargers. Rounding out the features is full EtherCat motion control network, Gigabit Ethernet network with 32GB backplane switch, and dual WiFi radios and a base station.