WildCharge WiProwess deal could see cable-free charging in cars, desks, notebooks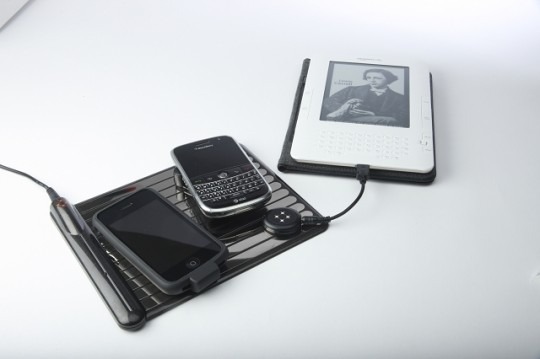 Whether or not your think wire-free charging is the future of mobile devices, you can't argue with WildCharge's licensing ferocity.  Fresh from their deal with battery heavyweights Duracell comes news that they've signed up WiProwess as a "certified design center".  Now that might not mean much initially, but WiProwess have plans to put the conductive charging system into desks, cars, AC outlets and more.
In fact, there's even some talk of putting the charging pad – which connects to a suitably WildCharge-equipped gadget via charging nubs on its case or adapter – into the lid of a laptop, which would mean you could feasibly recharge your phone, Bluetooth headset, Kindle or other gadget just by sitting it on top.  That would mean you could recharge your phone in the car, at your desk or at home just by setting it in a suitable universal cubby.
According to WiProwess principle Craig Kinley, the company has already seen interest from the medical, hospitality, automotive and office furniture industries.  Products to wirelessly charge cellphones such as the iPhone together with various other devices are already on sale.
Press Release:
WiProwess, LLC Becomes First WildCharge "Certified Design Center"

Agreement expands ability to integrate wire-free power technology into any business or consumer application

ANDERSON, S.C., (September 8, 2009) — WildCharge, Inc., the leader in wire-free power technology, has signed two significant agreements with WiProwess, LLC a wire-free power design and integration firm. The first agreement designates WiProwess as the premier Certified Design Center for WildCharge, giving WiProwess the authority to provide design, development and integration services to companies that seek to integrate WildCharge's wire-free power technology into their products. The Technology Licensing Agreement allows WiProwess to design, develop and market products embedded with WildCharge technology.

Wire-free power is a more efficient way of charging electronic devices such as mobile phones, laptops and hand-held gaming devices. The patented technology designed by WildCharge allows multiple devices to charge at once while using just a single electrical outlet. The technology not only saves energy and space, it also makes re-charging more convenient which diminishes the occurrence of battery down-time.

WildCharge is the first company in the wire-free power industry to have products commercially available, as well as the first to have wire-free products developed and commercially launched by licensees of its technology. As a Certified Design Center, WiProwess will accelerate the introduction of products featuring convenient WildCharge wire-free technology into the market and hands of anxiously waiting consumers.

"We're very excited to get in on the ground floor of the explosion in wire-free power, and to do so with the category leader," said Craig Kinley, principal of WiProwess. "WildCharge is clearly the front runner in the race to provide viable wire-free power solutions around the world. It is the only company to have the technology commercially available now, and they've made it extremely cost-effective and easy for our customers to begin integrating the technology into their own products."

Kinley cited the medical, hospitality, automotive and office furniture industries as having taken an early interest in implementing wire-free power into their product/service offering.

Dennis Grant, chairman and CEO of WildCharge, said, "WiProwess is a great partner to WildCharge and they saw immediately that the applications for our technology are endless. From gaming consoles to furniture to appliances, our technology can easily be embedded into countless solutions. We are excited about expanding the adoption and use of our technology through our relationship with WiProwess. Our goal is to develop integrated product solutions that will simplify the consumer experience when it comes to charging."

About WiProwess

WiProwess was formed in 2008 to bring forth exceptional wireless consulting services and create sound business relationships that lead to rewarding synergies between various technologies and business partners. WiProwess integrates wireless technologies with products and services to not only have the ability to review, analyze and optimize the current infrastructure and system, but also deliver the concentration of what is on the forefront of the technological curve. www.wiprowess.com

About WildCharge

WildCharge is a Boulder, CO based company that is revolutionizing power delivery to portable electronic devices by commercializing – through licensing partnerships – its proven, wire-free power technology. WildCharge is the first company to offer commercially available wire-free charging technology that works with multiple devices across multiple brands. WildCharge's Technology Licensing Program provides the design and manufacturing guidance allowing original equipment/design manufacturers to quickly and cost effectively integrate highly efficient, wire-free, technology into their products. For more information on WildCharge products and licensing capabilities, go to www.wildcharge.com.