WikiLeaks recovers from massive DDoS attack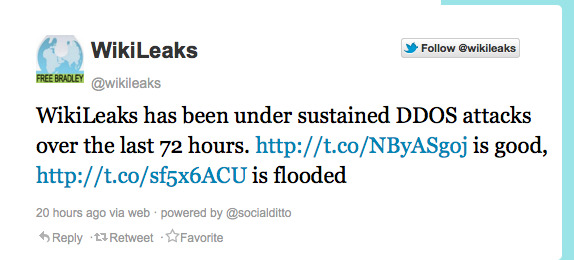 WikiLeaks has recovered from a massive DDoS attack that lasted three days, during which it had to shift much of its content to mirror sites. It's unclear which hacker group or individual may be responsible for the attack, but a former Anonymous member by the name Nyre has already claimed credit for a similar DDoS attack on The Pirate Bay earlier this week that lasted over 24 hours.
Nyre claims to be a former Anonymous member that is now against the activities of the notorious hacker group and attacked The Pirate Bay due to Anonymous' use of the site to publicize its operations. The hacker posted the following message to Pastebin:
"You must be wondering why did I attacked The Pirate Bay. I am Nyre. I am highly against Anonymous. I do not support Anonymous anymore. I sometimes help the feds. The Pirate Bay was a press-release website for Anonymous, then I had a idea, why not take it down? Why not make it impossible for Anonymous? Get on your knees, Anonymous. I am a one-man army. I am not a hacker. I am a security killer. Expect yourself, f******."
Although the massive DDoS attack against WikiLeaks during the same week seems to be more than a coincidence, no one has stepped forward to claim responsibility yet and there are plenty of groups that may be motivated to take down the whistle-blowing site, even for no good reason at all.
[via WebProNews]