Wiimote-controlled Airsoft Robot Gun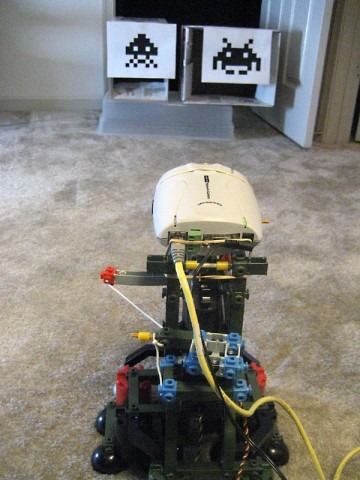 Hacking together remote control weaponry seems to be a common pastime, and incorporating a nice, innocent Wiimote an ideal way to aim it.  Jay decided his office was missing an airsoft robot with IP webcam and internet-based remote control, so put together the pretty intimidating setup you see here.Video demos after the cut
An IObridge acts as the intermediary between servos that aim the airsoft gun and pull its trigger, with the Wiimote linked by Bluetooth to Jay's MacBook.  The chassis is built from Construx.
"I'm hoping I can stash this in a friends office maybe for a surprise ambush! However, in practice it might be hard to convince someone to put on a face shield before heading to work" Jay
Right now, Jay has it set up to take pot-shots at some oversized Space Invaders.  Personally I'd switch out the airsoft gun for something more face-friendly and get to work ambushing people.
[via MAKE]