Wii Will Relaunch? $200 tag and new colours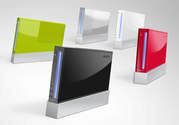 We all got very familiar with this picture of a multi-coloured shoal of Wii, metaphorically gliding through the waves that the big fish on the console scene were causing, and so when on release day we could only buy the white version there were many people disappointed (though obviously even more were disappointed that the dang thing sold out so quickly!)  Now, courtesy of the rumour-mill and a loquacious Toys-R-Us manager, comes the news that Nintendo might just be relaunching their sweat-prompting console in the new year, along with a drop in price to $200 and a variety of colour options.
GotFrag were half of the above conversation and have put forward a few tentative explanations of why Nintendo might work things this way.  A Spring-launch of several multiplayer online games is one such reason, as is the upcoming Halo 3 public beta.  Lastly, they link to a Japanese news site which has done a detailed break-down of the Wii's componentry and come up with a $158 cost figure to Nintendo:
"Nintendo could theoretically drop the price of the Wii to $200 and unbundle Wii Sports to make a profit margin for each unit that is relatively the same, albeit with more units sold, leading to the possibility of more games and accessories purchased" GotFrag
They're careful to point out that this is all rumour and conjecture, but there's not long to wait until we find out for sure.  And, given the scarcity of Wii's on shop shelves, for most of us all we can really do is wait.