Wii Launch Game List Revealed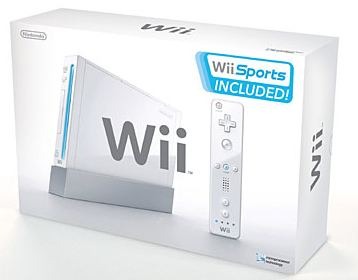 The time is almost here; is less than three weeks, the two remaining next-generation consoles will (hopefully) see the light of day. The PlayStation 3 will hit shelves (and eBay) first on November 17th, bringing its next-generation goodness to only a lucky few who were able to obtain a pre-order without engaging in ritual combat. For Nintendo fans, the Wii is should be far easier to get a hold of, and now Nintendo has decided to release a list of what will be available for purchase when their machine goes global on the 19th. So what can you expect to be able to grab? Hit the jump to find out.
Activision
* Call of Duty 3
* Marvel Ultimate Alliance
* Rapala Tournament Fishing
* Tony Hawk's Downhill Jam
* World Series of Poker: Tournament of Champions
Atari
* Dragon Ball Z: Budokai Tenkaichi 2
Atlus
* Trauma Center: Second Opinion
EA
* Madden NFL '07
* Need for Speed: Carbon
Konami
* Elebits
Midway
* Happy Feet
* Rampage: Total Destruction
* The Grim Adventures of Billy & Mandy, The Ant Bully
Sega
* Super Monkey Ball: Banana Blitz
SNK
* Metal Slug Anthology
Tecmo
* Super Swing Golf
THQ
* Avatar: The Last Airbender
* Barnyard
* Cars
* SpongeBob SquarePants: The Creature from the Krusty Krab
Ubisoft
* Far Cry: Vengeance
* GT Pro Series
* Monster 4X4 World Circuit
* Open Season
* Rayman Raving Rabbids
* Red Steel
* Tom Clancy's Splinter Cell Double Agent
Vivendi
* Ice Age 2: The Meltdown
Virtual Console Games
NES
* Mario Bros.
* The Legend of Zelda
* Donkey Kong
* Donkey Kong Jr.
* Ice Hockey
* Pinball
* Soccer
* Tennis
* Urban Champion
* Wario's Woods
* Baseball
* Solomon's Key
SNES
* F-Zero
* SimCity
N64
* Super Mario 64
Sega Genesis
* Sonic the Hedgehog
* Altered Beast
* Golden Axe
* Columns
* Ecco the Dolphin
* Gunstar Heroes
* Space Harrier II
* Toe Jam & Earl
* Ristar
* Dr. Robotnik's Mean Bean Machine
TurboGrafx16
* Bonk's Adventure
* Super Star Soldier
* Victory Run
* Bomberman '93
* Dungeon Explorer
[via Joystiq]