Wii Gamer Glove lets you keep hold of your remote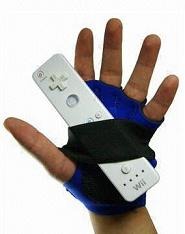 We've all heard the stories about people losing their grip on their Wii remotes and destroying their TV's or other objects. Yes, it's a terrible, horrible thing to happen to someone but that's why you use the strap, to ensure your property remains intact.
If you're not a strap kind of person, though, you do have another option. The Gamer Glove allows you a different way to strap in that pesky remote and still keep your fingers free and flexible for full button usage. They have a rubber pad for slip resistance and are made from stretchy material for a nice fit.
I'm not all that impressed by it, in fact I'd sooner make my own out of duct tape then buy it. I on that note, I don't see a monetary price but rest assure your geek factor will rise considerably the second you put this on.