WiFi Certification for Samsung GT-I9220 Super AMOLED HD smartphone spied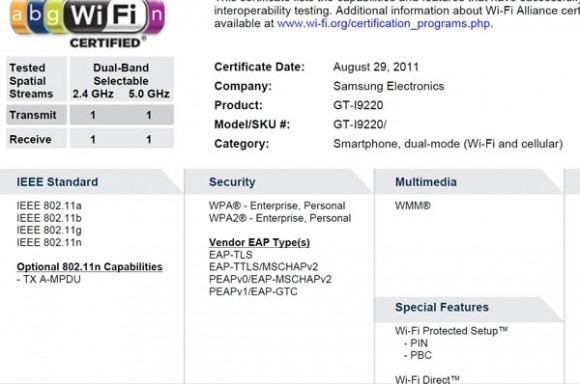 There was a photo floating around earlier this month that was originally said to be the Samsung GT-I9220 smartphone. That photo was later shown to be of a different device and that could have raised doubts in the minds of some as to whether or not the Samsung smartphone actually existed. The GT-I9220 does exist and as of yesterday, the smartphone had its WiFi certification.
The certification sheet for the GT-I9220 has turned up on Wi-Fi Certified. The sheet shows that the smartphone has WiFi onboard all the way up to 802.11n speed and will work with 2.4 and 5GHz WiFi networks. The smartphone reportedly has a 4.3-inch super AMOLED HD screen with a resolution of 1280 x 720 with 326ppi.
The operating system is said to be Android 2.3.3 Gingerbread on the GT-I9220. The phone is also supposed to have dual-core 1.4GHz CPU and an 8MP camera. With IFA 2011 kicking off soon the hope is that the device will get official at the show. Some of our team will be on hand to fondle the smartphone if it does.
[via Android Community]