Wi-Ex Announces Dual-Band Cell Phone Extender - zBoost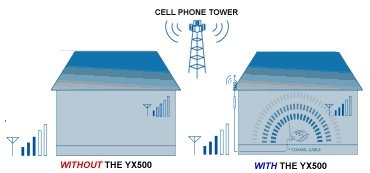 zBoost is a product that will help increase your cell phone's signal at home, especially when you are in the area of your house where the wall interfere with your provider's signals.
Full Press Release from Wi-Ex:
ATLANTA, GA – August 30, 2006 – Wi-Ex, Inc. (www.wi-ex.com), a leader in developing products that enhance cell phone reception and clarity, announced their latest product, zBoost Dual Band. This reliable product captures and amplifies both the 800MHz signal and 1900MHz bands simultaneously for cell phones users in homes or offices that have a weak signal. The product is easy to install, affordable at 9 and has the same sleek consumer-friendly design of the strong-selling single-band versions, the zBoost YX500-PCS and zBoost YX500-CEL. The zBoost Dual Band increases cell phone coverage by up to 2,500 square feet while also extending the phone battery life.
The product package comes complete with all the elements needed to set up the unit. The package includes an antenna, base unit, co-ax cable and mounting bracket. The antenna may be installed inside, near a window (or any place that there is cell phone signal) for easiest installation. For better signal enhancement, the antenna is installed in the attic or outside where signal may be stronger.
"We have noted that on some new communications devices, carriers may use one frequency for voice and another for data. This product also works with those newer devices and their carriers. In addition, like all of our products it has patent-pending technologies that protect the carrier network," Lloyd R. Meese, President and CEO of Wi-Ex. "We are working closely with numerous carriers in this area."
According to research, over 35% of cellular calls nationwide experience poor quality or loss of signal strength when using a cell phone in their office or home.* This loss of coverage may be due to environmental obstructions, building materials, metal roofs, high-speed data (reduces coverage) and network interference.
"With a worldwide subscriber base of 2 billion and a large percentage of indoor coverage problems, we will continue to address this issue. The zBoost Dual Band product increases cellular coverage indoors on both bands and works simultaneously with most carriers including Cingular, Sprint, T-Mobile and Verizon," adds Meese. "It addresses the issue that some carriers bounce from 800 MHz to 1900 MHz depending upon the signal strength. So a customer can buy this unit and be covered either way. We see this as one more step closer to helping people replace landlines."
Increasing the indoor coverage translates into increased productivity and savings. Some of the benefits include extending the battery life, replacing landlines phones, reducing or eliminating dropped calls and increasing wireless applications such as instant messaging, 3G high-speed data picture mail and more.
About Wi-Ex (www.wi-ex.com)
Wi-E, www.Wi-Ex.com, developed zBoost, the first consumer-priced signal booster for the small office/home office (SOHO) cell phone market. In early 2006, they were recognized as one of Georgia's top 10 Innovative companies. They manufacture and distribute the zBoost of cell phone signal extenders for the home, office or car. The zBoost product line will Extend Cell Zones TM for users by improving signal strength for better voice and data transmission while maintaining the integrity of the carriers' networks. They are easy to install, affordable and available at many retail and etail outlets including RadioShack (www.radioshack.com) CompUSA (www.compusa.com ), Fry's www.frys.com, Tiger Direct (www.tigerdirect.com) and Solid Signal (www.solidsignal.com ). zBoost works with most carriers including Cingular, Sprint and T-Mobile. Wi-Ex continues to develop innovative products to meet the demands of an increasingly wireless society by enhancing wireless signals. To learn more, visit (www.Wi-Ex.com).