Why Did Amazon Echo Show Just Cannibalize This Major Alexa Advocate?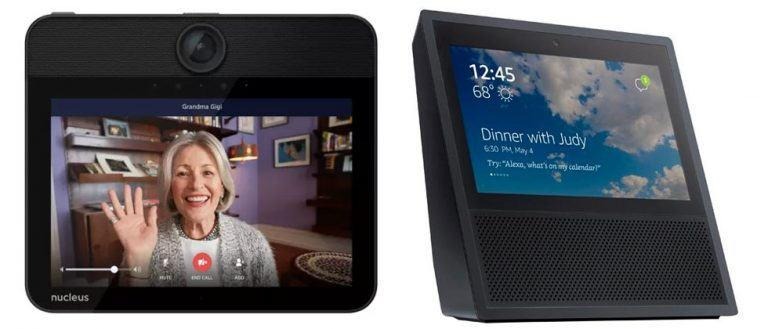 There's a product out there with nearly the same capabilities and general aim as Amazon's Echo Show. That's the Echo Show, the product that Amazon announced this week. The Echo Show, you see, is a touchscreen display with a user-facing camera, a mic, and a speaker. The product known as The Nucleus is a touchscreen display with a user-facing camera, a mic, and a speaker – and the differences are few.
The Nucleus is part of a company founded by CEO Jonathan Frankel. About a year ago, Amazon lead a $5.6 million dollar investment into Nucleus, which Frankel was apparently happy about – at the time. Speaking with ReCode this week, Frankel is less enthusiastic about the situation.
It's not just that the two devices are similar in their capabilities. It's that – from the start – these two devices seem to be using the same methodology to get themselves into user's homes. "The degree to which communication is a core functionality of the device is pretty astonishing," said Frankel.
Above you'll see the launch video for Amazon Echo Show as published this week. Notice the amount of time the video focuses on how well the device is able to act as a communication conduit between users. "Their thesis is what our thesis was: Communication is that Trojan horse to get those devices throughout the home and throughout the extended family's home."
What seems to make Frankel mad about the situation is Amazon's aim, and the inevitable result of releasing this product at this time. "The difference is," said Frankel, "they want to sell more detergent; we actually want to help families communicate easier."
Not entirely unlike the point at which Microsoft made clear that they were going to be making their own phones by acquiring Nokia, then later by releasing their own tablet hardware with a keyboard, Amazon seems to be stepping on a few toes of hardware associates. "They must realize that by trying to trample over us — a premiere partner in the Alexa Fund ecosystem," said Frankel, "that they are going to really cripple that ecosystem and put a warning out for others."
Now we'll see whether Amazon continues to make products that are similar to those already on the market with Alexa – or if they'll keep trying to make their own. Stick to our Alexa Hub to see the future.