Why an American Express Platinum is a road-warrior's must-have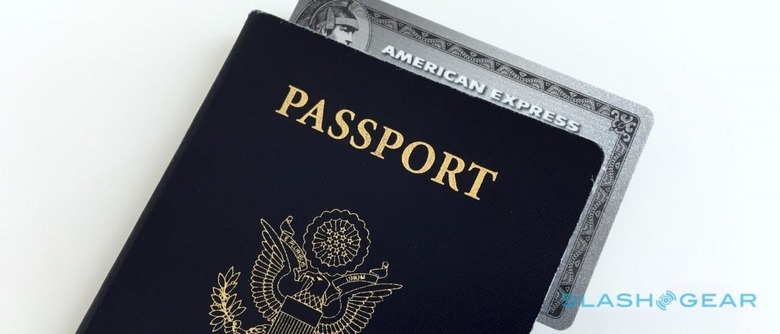 When you travel a lot, like I do, spending half your time every month on the road, you quickly figure out what's your go-to kit. For me, as well as my laptop, camera, smartphone, and a bag full of cables and adapters, the American Express Platinum has now graduated to travel must-have.
Smooth traveling isn't just about getting the best deal, it's about saving time: when you're trying to make the most of a trip, and of the time in-between trips when you're back home with family, the last thing you want is to be cross-shopping credit card insurance or extended warranties.
When I'm home, I want to spend that time with my wife and my two daughters.
Now, the Platinum Card perks don't come free. The card has a $450 annual fee if you want it in your wallet, but if you're the right person and you take advantage of the features you could easily get more than that in return.
If time is what you value most, the free Global Entry credit – which also nets you TSA Precheck membership – means five years of swooping through immigration and security lines while everyone else queues.
In fact, there have been times I've got through security so much quicker than I expected, I end up far too early at the gate. With an American Express Platinum, though, you get access not only to the company's own Centurion Lounges – currently in New York Laguardia, Dallas/Fort Worth, San Francisco, Las Vegas, and Miami, and The Centurion Studio in Seattle, – but to Delta's Sky Clubs (though you need to be flying on Delta that day), Airspace Lounges, and free membership to Priority Pass.
Frankly, if you were planning on buying lounge access when you travel, then the Platinum Card is a no-brainer.
Then there are the ways the Platinum Card wipes out the little fees that might otherwise mount up. Unlimited Boingo WiFi hotspot access for four devices, for instance, comes as standard – it'd normally cost you around $39 a month for a similar plan – as does car rental loss and damage insurance. Just the latter alone could potentially save you thirty bucks a day versus what the rental companies charge
Saying no to pushy rental car staff because you've already got coverage feels great, and so does declining expensive extended warranties. As long as you buy with the American Express card, with eligible purchases, there's an extra year of warranty tagged onto the end.
Meanwhile, there's purchase protection and return protection which makes getting a refund on something that's lost, stolen, breaks, or you just decide to return for ninety days. You need to check the small print to see exactly what is and isn't covered, but it can mean the difference between simply getting your money back versus spending an hour on the phone with a store.
The other big time-saver, I've found, is American Express' Premium Global Assist helpline. Usually I'm fairly skeptical of travel services, but the Platinum Card's combination of medical, financial, and legal advice while I've been in unfamiliar countries abroad, the promise of help with replacements of lost passports, and even medi-vac evacuation if you're seriously unwell is a nice backup plan to know about.
If I haven't spelled it out for you yet, here's the run-down: if you're a frequent traveler, value your time as much as your money, and don't enjoy spending your free days digging through warranty and insurance paperwork, you could well find the American Express Platinum Card's fee more than pays for itself.
MORE American Express
Vincent is an American Express Ambassador, carrying an Amex Platinum card and reporting on his experiences. As part of the program he may receive compensation to write about those experiences, but the opinions are Vincent's own and are independent from American Express.