Whole Foods prototype shopping cart uses Kinect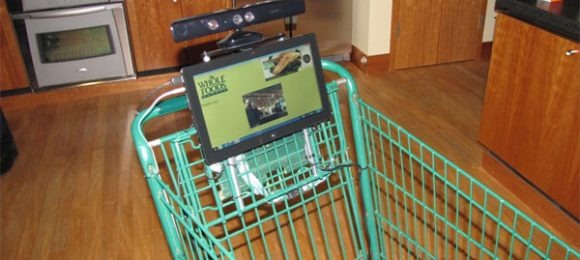 Shopping carts today are far from what you would consider high-tech. The highest tech shopping carts I've ever seen have simple calculators attached. Grocery store chain Whole Foods is working on the development of the shopping cart of the future, and this cart is very high-tech and so awesome. The cart has a Microsoft Kinect for Windows sensor attached.
The cart will have the ability to identify shopper with a loyalty card and then follow the shopper around the store using motorized pushing action. That means all the shopper would need to do is walk, and the cart will roll along behind them. Meekly following behind the shopper isn't all the cart will do, it also has the capability to scan the items the shopper places in the cart.
Those items can be marked off the digital list for the shopper and then the cart will total the purchase and check the shopper out when they're done shopping. Microsoft demonstrated a very early prototype, which is being developed by a company in Austin, Texas called Chaotic Moon. The project is said to be only weeks old and there were reportedly a couple of false starts when the sensor didn't work as it was intended during the demonstration.
[via Geekwire]