White T-Mobile G1 Finally Available In US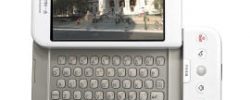 The white T-Mobile G1 smartphone has finally gone on sale in the US, after delays saw only the black and bronze versions available at launch.  Functionally identical to the existing G1 handsets, the smartphone uses Google's open-source Android OS and, in my opinion, looks a whole lot better (i.e. smaller and less blocky) in white than in either of the other colors.
Stocks of the white G1 first began to show up last Friday, though it's only today that T-Mobile USA have publicly confirmed that the third color variant would be generally available.  Pricing for the handset remains at $179.99 with a new two-year agreement.
Delays in the white G1 launch were attributed by some to flaking of the paint finish, forcing manufacturer HTC to re-examine the production process.  Neither T-Mobile nor HTC have commented on that speculation.