Whirlpool debuts washer and dryer with Amazon Dash built-in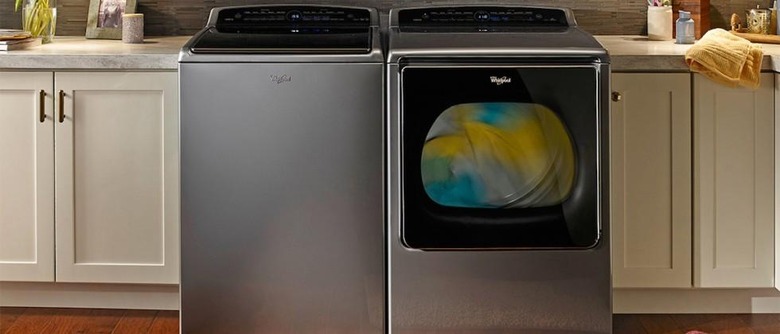 Home appliance maker Whirlpool has just announced a new smart washer and dryer set that can connect with Amazon's Dash Replenishment Service, allowing automatic orders of detergent and fabric softener to be a painless process. Amazon announced Dash Replenishment Service last October as an extension of its physical, WiFi-connected Dash Buttons, which let customers order a specific product, like dish soap, coffee, and pet food, with a single press. Now appliance makers can implement the service directly into products, so users are notified when supplies run low, and orders can be placed with a single tap.
Whirlpool has implemented Amazon DRS into its own Smart Kitchen Suite app for iOS and Android, which in turn connects with its latest smart appliances. Users can sign in to their Amazon account within the Whirlpool app, setup their Dash preferences, and confirm a new order when the washer sends a notification that detergent is running low.
The new washer and dryer, as well as a dishwasher, will be shown off during CES 2016 this week. The appliances can keep track of how many wash cycles are made since the last refill of soap, and then predict when it's close to running out, notifying users via the mobile app.
Whirlpool's new smart appliances can even be controlled from the app, with options to remotely start a wash cycle, as well as select different modes, including a quiet setting and one that prevents clothes from getting wrinkled if the dryer won't be emptied right away.
The Smart Top Load Washer and Dryer are set to go on sale later this year, priced at $1,399 each. We'll be among the first on the show floor at CES this year, so expect more on Whirlpool's smart appliances later this week.
SOURCE Whirlpool