WhatsApp Rolls Out Group Video And Audio Calls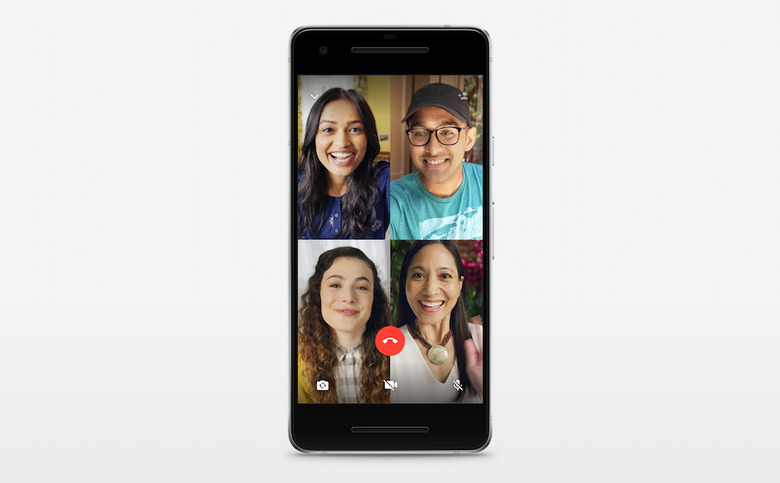 Video calling has been a one of WhatsApp's big features for a couple of years now, and today, we're seeing it get a pretty major expansion. Back at the Facebook F8 conference in May, the company announced group video calling for WhatsApp, but declined to say when the feature would launch. Fast forward to today and the wait is over, as group video calling has gone live across both iOS and Android.
Now, instead of being limited to just one-on-one calls, you can start a video call with up three other people, giving you a splitscreen view of each participant. This functionality isn't just limited to video calls either, as audio calls now support up to four people as well.
Getting a group call going seems to be a straightforward endeavor. All you need to do is start a one-on-one video or audio call with someone and then tap the "add participant" button that has been added to the top right corner. From there, you can add more participants from your contacts list and bring them into the conversation.
As with everything else, WhatsApp assures that these calls are end-to-end encrypted, so you don't have to worry about someone recording or listening in on your calls. It should also offer some flexibility in terms of network reliability too, as WhatsApp says that is has "designed calling to work reliably around the world in different network conditions."
Calling is a big part of WhatsApp's service, so this group calling feature will almost certainly be appreciated by the larger userbase. While it may not be as ambitions as Snapchat's 16-person group calls, WhatsApp's implementation should get the job done nonetheless. This feature is rolling out now to iOS and Android, so be sure to check it out.