What's new in Android 4.2 Jelly Bean?

It's time for Google's mobile OS to get another boost, with Android 4.1 turning to Android 4.2 Jelly Bean with a new set of features galore. This update is largely improving upon what was revealed with Android 4.2 Jelly Bean, effectively making it more of a "full" update than an incremental one – unless of course you consider that and this as increments, of course. This software will be working on the Google Nexus 10 from Samsung and the LG Nexus 4, tablet and smartphone environments alike.
Photo Sphere / Keyboard Gestures
Photo Sphere will allow you to snap photos in every direction, making no less than an amazing Street View sort of situation that you can share with your friends around the world – traveling in space! This update also brings on Gesture Typing – a feature that's been around with 3rd party apps for some time now, perfected to a new degree by Google itself.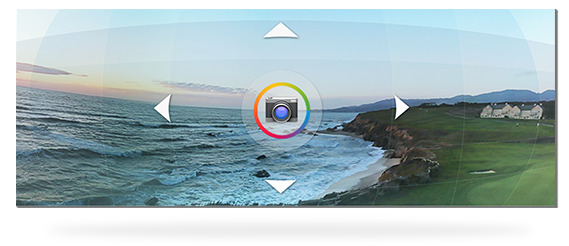 This update also brings on additional dictionary items in your speech-to-text archive and is improved in its anticipatory abilities with keyboard suggestions as well. Photo Sphere may well be used in the future to help Google create one gigantic Street View map of the world – we'll have to wait and see. Would you participate in something as wild as that?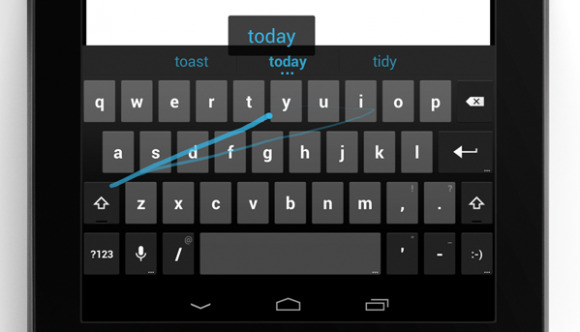 User Logins
Next and perhaps most important is user logins – this feature is only available on tablets at the moment, but may be expanded to smartphones in the future. With this feature you're able to have the basics, first: those being your own backgrounds, homescreens, and widgets. You'll also have your own apps, games, and individual high scores, too! This feature does not require you to shut the device off – only that you go back to your lockscreen: simple!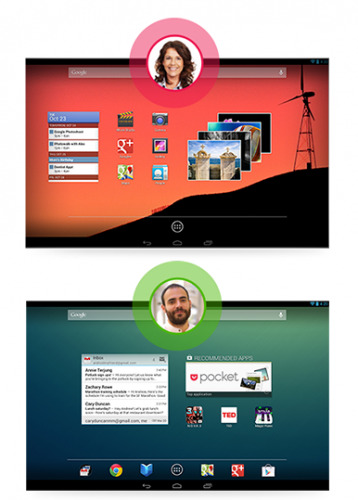 Wireless Display
Android 4.2 adds wireless display to your device – no longer will you have to rely on your smartphone's manufacturer to add this as a value-added feature: you'll have it on every Android device running Android 4.2 or higher. You'll need a wireless display adapter to your HDMI-enabled TV, but once you do – instant mirroring! This feature also works with another tiny item calls Daydream – this effectively being a screen saver that shows photo albums, news from Google Currents, or weather.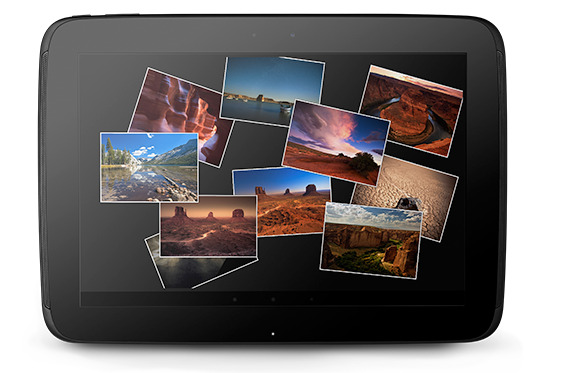 Notifications
Your notifications have been expanded to a degree, now allowing you to take action on each of them with a simple tap. If you're late for a meeting, this alert will be able to connect you to your contact with a simple call button. You can email everyone in the meeting too – this being just one example of the many different situations you'll be able to take action on.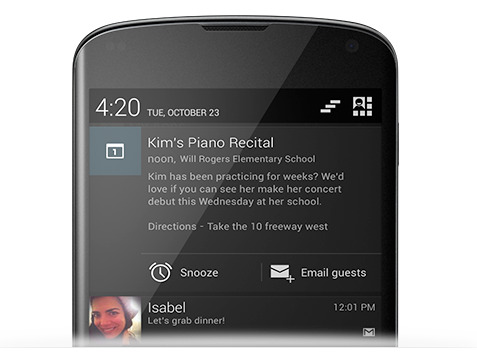 Google Now
Google Now has been boosted with several different items and updates, starting with weather. The weather readout wont just tell you what the weather is right in the moment, but as a forecast for your day as well. If you're at a train platform, it'll see which train you're likely taking and will tell you when it'll be arriving. This update also adds popular photo spots nearby, is able to track your packages, and brings you information on movies, too!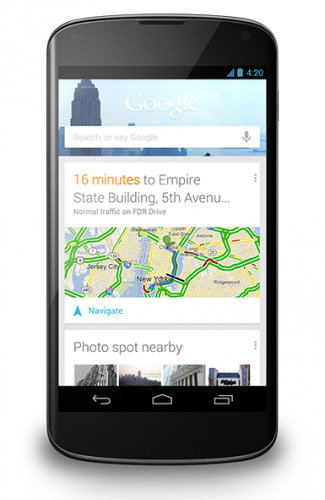 Stick around in our giant Android portal for more in-depth details as they arise with this software update and the devices that carry it. Android 4.2 Jelly Bean will be unleashed on the Nexus 4 as well as the Nexus 10 and will likely be making its way to the rest of the Nexus family soon. As for carrier devices – we just do not know – wait and see!