What Went on at Macworld This Weekend? [Best of Show Winners Listed]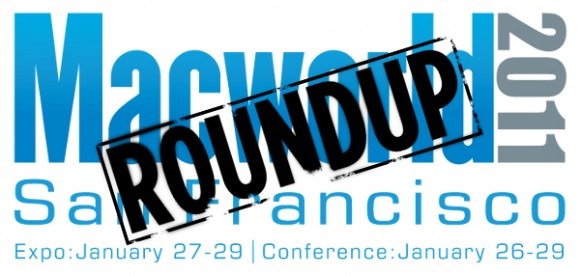 First, let's talk about what Macworld is briefly – it's a trade show where all sorts of Apple enthusiasts can show off their wares in an almost completely non-fruit-free environment. This used to be where Steve Jobs set up shop to show off Apple's newest wares until 2009 when they began hosting their own events (which we basically always attend.) This convention has been going on since 1985 and is generally accepted as being sort of "past it's prime" but is still going relatively strong. This year's Macworld took place January 25th through the 29th, and dismissed the idea that no Apple keynote means no Macworld FOREVER!
One of the main things of note at this year's convention is, of course, the amount of iPad cases on the floor. The amount of cases for iDevices of all sorts – iPod Touch and iPhone included, are essentially countless, in color, design, shape, and function. In previous years, giant amounts of iPhone cases and earlier on iPod cases reigned supreme.
There's also Mac stuff, too, incase you forgot that Apple produced laptops and desktops, sellers slinging Time Machine backups, document and video converters of all kinds, and even Windows virtualization were there to remind you. Third-party devices were also in attendance, especially those working with speaker systems, hardware for storage, and basically everything else you'd find in an Apple store, but from other brands more than likely hoping to find their way in.
Amongst the winners of the treasured Best In Show award were the following:
• Awind McTiVia acts as an intermediary between your Mac and your HDTV in a way the Apple TV SHOULD.
• BusyMac BusyToDo is a to-do list that works with iCal (already installed on your Mac) and MobileMe and syncs them all in real-time. Thus, when an item is marked as done on your iOS device, it's marked in iCal at the same time.
• Dane Elec myDitto Key Working with myDitto Server, this USB key allows you access to your server files from any computer, anywhere. No software need be installed on the computer to make this work.
• Global Delight Boom App which turns your Mac's volume up to 11. Works with streaming videos, video conferencing, iTunes music, and basically anything else on your Mac.
• OWC Mercury Aura Pro Express Solid State Drive Made specifically for the folks who purchased a MacBook Air who are now wishing they had more flash storage. Go for 180GB ($500), 240GB ($580), or 360GB ($1,180) for a massive upgrade.
• Rain Design iRest for iPad Both foam cushions for resting the stand on your lap as well as a torque hinge that lets you adjust the angle so you might have as comfortable an experience as possible sitting on the ground, your bed, or your coutch with your iPad.
• Scosche myTrek Pulse Monitor and iOS app Two LEDs and an optical sensor measure variances in blood density while Bluetooth sends data to your iPhone. App helps manage your training to stay fit.
• TenOne Design Fling Joystick to attach with suction cups to your iPad screen to play virtual joystick games. No more infititely painful thumb for you.
• Web Information Solutions Pocket Informant 2.0 Personal information manager [App] for iOS with a fresh interface, calendaring, appointments, and task features to keep you on task all day, every day.
• Zagg ZaggMate with keyboard iPad case with a built-in Bluetooth keyboard, turning your iPad into what's basically a laptop. Shut the case and your device is protected from harm.
These were the top items, the greatest of the great – that were chosen. Of course there were hundreds if not thousands of other items that deserved recognition, and certainly we hope they'll get what they deserve in the coming weeks via press releases, underground message spreading, and good old fashion tweeting, but do take a look at the winners as they represent the atmosphere of the show this year.
Another note that's important to make here is that last year there appeared to have been a general air of "is this it?" This was because it was the first year Apple did not plan on attending with an official booth or a fabulous keynote speech and release of items. What the atmosphere this year was like, in contrast, was "hooray, we're still here, let's do this!" Indeed it even seemed to some people to be a better event than ever because the people in attendance weren't just there to see Steve, they were there to see everyone. Let's hope this is the dawn of a new era for the Macworld trade show – on into the future!