What the Samsung Galaxy A7 can tell us about the Galaxy S6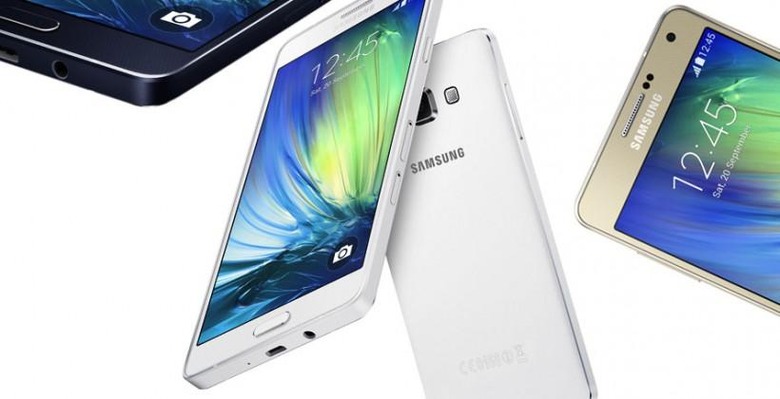 We're just weeks away from what almost certainly will be Samsung's next big unveiling of a super-phone. Last year the company decided to reveal their Samsung Galaxy S5 in a multi-country fashion during Mobile World Congress 2014. We've no good reason NOT to believe they wouldn't do the same thing again this year at MWC 2015. To prepare, we've been gathering rumors, leaks, and clues from Samsung to put together a puzzle that is the next hero phone from the biggest brand in Android.
The Samsung Galaxy A7 works with a lovely 13-megapixel camera at its back with autofocus and a single LED flash. You've also got a speaker back there, indicating Samsung will be continuing to be unwilling to bring their main speakers to the front of the phone.
Up front you've got a 5.5-inch HD sAMOLED display – Samsung won't be ending their AMOLED usage any time soon. The front of this device also works with a 5-megapixel camera. The Galaxy S6 will almost certainly feature a front-facing camera of some extraordinary power.
This Galaxy A7 is a mid-range phone. Because the Samsung Galaxy S series is a high-end device range, you can bet the next model will have everything the A7 has and more. This includes 2GB of RAM, a 16GB internal storage size at minimum with up to 64GB of extra storage with a microSD card (Galaxy S6 will have up to 128GB, as in previous iterations).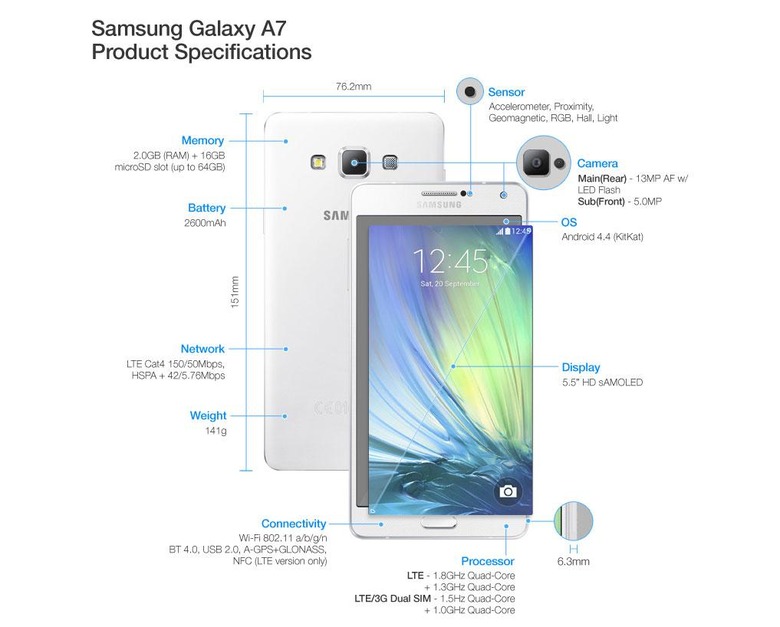 In the Samsung Galaxy A7 you'll also find Bluetooth 4.0, Wi-Fi 802.11 a/b/g/n, NFC, and 4G LTE connectivity.
Display: 5.2-inch 2560 x 1440 (QuadHD, aka 2K)Camera (back): 16-megapixel, OIS, 4K recordingCamera (front): 5-megapixelProcessor: Qualcomm Snapdragon 810 inside USA, Exynos 7420 outside – both 64-bitOS: Android 5.0 LollipopStorage: 32, 64, 128GB internalMicro-SD: 128GB microSD/SDHC slot
Above you'll find a list of rumored, leaked, or heavily implied specifications for the Samsung Galaxy S6. Join us from the 1st of March through the rest of the week to see Samsung at Mobile World Congress in all its Galaxy glory!