A fifth sperm whale has washed ashore on a beach in England, this one being spotted some time this past weekend. The whales have been found beached on the eastern coast of England, with the first being found in Hunstanton, Norfolk last Friday. Another three deceased beached whales were found in Skegness a short while later, and the fifth was most recently found in Wainfleet, Lincolnshire.
The area in which the whales have been found is a former bombing range, according to the BBC, and as such residents are being warned to avoid the area due to risk of unexploded bombs and tidal creeks.
As well, one of the whales at the Skegness site had some sort of eruption when being examined, reportedly letting out a "huge blast of air" when a marine biologist was probing it.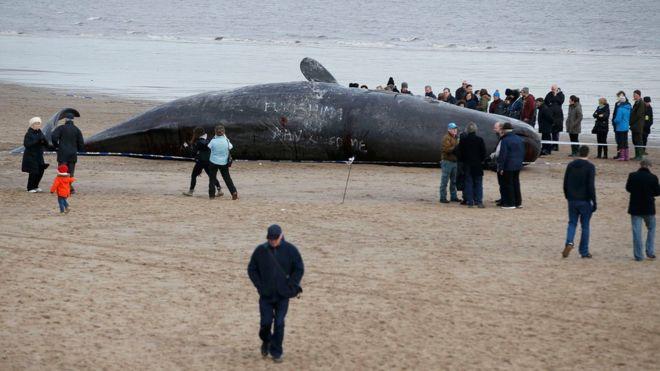 Some of the whale carcasses have been marked with graffiti, with one reading "fukushima" likely in reference to the nuclear power station incident in Japan, as well as "Mans Fault" and "CND" alongside a peace symbol. The Campaign for Nuclear Disarmament (CND) said the graffiti referencing it wasn't something the national organization was responsible for.
It isn't clear at this point how the whale carcasses will be disposed of, but there are several methods used in instances like theses. At times, the whales may be buried on site, while other times they are transported to a landfill or incinerated.
SOURCE: BBC