Westinghouse unveils World First Integrated Wireless HDTV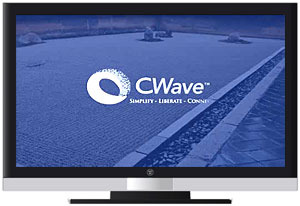 Westinghouse is not only well known for affordable displays, it will go in history, next week at CES show 2008, as the first HDTV to offer integrated wireless HDTV. The Westinghouse Digital Wireless HDMI HDTV featuring Pulse Link's integrated CWave UWB Wireless HDMI technology that offers real-time visually lossless wireless streaming of high quality audio and video content from sources like DVR, Blu-Ray or HD-DVD Players to display anywhere in the room or entertainment center.
Video data is encoded using the JPEG2000 video codec and CWare's 1.35 Gbps over-the-air signaling rate that delivers 890 Mbps application layer throughput that surpassing 500 Mbps at 8 feet and more than 115 Mbps up to 40 feet. No price or specification on display is disclosed at this point but one still need the hard wire power cable to turn the display on.
It's always something positive about being the world's X of Y. I hope it works at full scale of 1080p (it should per Pulse LINK) and free of HDCP handshake issues else it will go down as wife's friendly gadget that never worked.
Westinghouse Digital and Pulse~LINK Unveil the World's First Fully Integrated Wireless HDTV at CES 2008
[via businesswire]