Westinghouse 16-inch HDTV offers maximum placement flexibility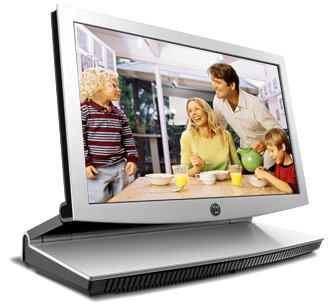 I'd always thought TVs under the 30-inch mark were really too small for you to appreciate HDTV, but Westinghouse Digital are too busy enjoying the fact that their latest LCD TV is super-flexible to wonder whether 1080p is wasted on just 16-inches.  The dual hinge and compact dimensions of the PT-16H610S mean it's ideal for small spaces, such as kitchens, and you can mount it upside-down (flipping the detachable bezel) beneath a cabinet or on the wall.  Everything is controlled by touch-sensitive buttons on the base section.
Running at 1366 x 768 resolution the set might also be a good bedroom companion, especially if you're into some gaming.  There's a single HDMI input, composite video input and audio in/out.  Sound is courtesy of two 3.5 watt front-mounted speakers, and the whole thing – including the base – measures in at 15.0 x 11.3 x 7-inches.
It's set to go on sale within the next two weeks, and Westinghouse have picked Target as their main retail partner.  Expect to pay around $349.
[via Crave]