Western Digital unveils My Net Wi-Fi Range Extender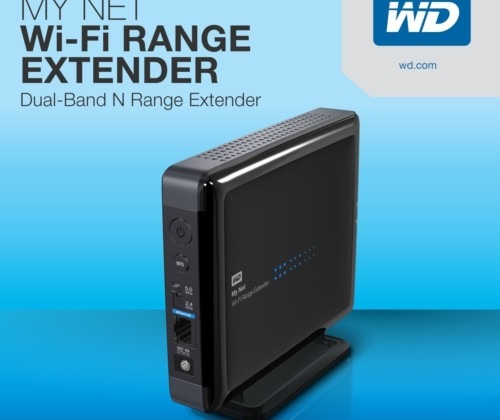 If you live in a home or work in an office where Wi-Fi network doesn't quite cover the entire building, Western Digital is a product that will help expand your wireless network. The product is called the My Net Wi-Fi Range Extender. The device is designed to work with Western Digital's range of HD dual band routers.
The Wi-Fi Range Extender features a 3 x 3 multiple input multiple output antenna array design. According to Western Digital, most competing products use a smaller 2 x 2 design antenna. By using a 3 x 3 MIMO antenna, Western Digital is able to extend the Wi-Fi signal further than other products. The device is designed to support bandwidth intense activities such as streaming video, online gaming, and video calls.
The range extender promises to be easy to install requiring only a two-step process with no CD or software needed. The device supports Wi-Fi Protected Set up to connect the extender to the existing home network with a single button press. The device has Wi-Fi signal strength indicator lights on the front and a gigabit Ethernet port for devices that don't have Wi-Fi built in.
The device has a switch on the front allowing you to choose support for 5 GHz or 2.4 GHz networks. Western Digital says that the range extender is compatible with all Wi-Fi certified routers and gateways as well as all Wi-Fi standards from 802.11a to 802.11ac. The My Net Wi-Fi Range Extender is available now for $89.99.