Western Digital Scorpio Black 7,200rpm notebook drives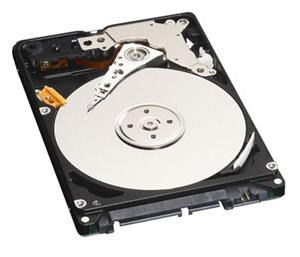 Western Digital has unveiled its latest mobile hard-drives, the Scorpio Black range, and while they might not be rocking the solid-state bandwagon they've little to be ashamed of.  Available in capacities ranging from 80GB to 320GB, the 2.5-inch drives all spin at 7,200rpm and have 16MB cache; connectivity is via 3GB/s SATA.  However despite all that performance potential, Western Digital are saying that the new drives consume only the power demanded by a slower, 5,400rpm model.
That little slab of magic is courtesy of the company's IntelliSeek and SecurePark technologies.  The former calculates optimum seek speeds to lower power consumption, while the latter parks the read/write heads during low power idle mode.  It also has the added benefit of reducing the risk of drive damage and data loss from the heads impacting the platters.
Western Digital offer versions of the Scorpio Black with and without free-fall sensors, which can monitor whether the drive is plummeting to its doom and lock the heads and platters down to minimise potential damage.  No word on whether it also unfurls a parachute, though.  The top-spec 320GB HDD comes in at $250.
[via I4U]