Western Digital Released Firmware 1.01.01 For WD TV HD Media Player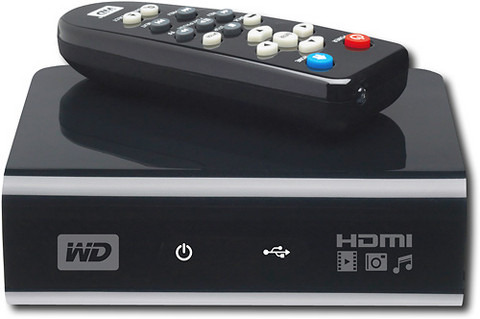 The does-it-all WD TV Media Player that reads not only HFS+ but also FAT32 and NTFS was proven buggy in its initial rollout. That's to be expected for a media device with such broad range of playback-ability. Interested parties hold up for better firmware fixes and supports now can get their hands on one, with more added features that you could possibility imagine.
Western Digital has rolled out a major firmware update for its sub $100 multimedia player. A long list of new features and fixes are enabled on the 1.01.01 release to improve playback stability, reliability and further increase player performance; It ever supports 1080P at 24hz for smoother video playback!
New Features:
• Added .MKV chapter selection for video playback for MKV with chapter support
• Added .MTS file extension support
• Added .TP file extension support
• Added .TS file extension support
• Added 1080p 24hz support
• Added disk volume name to folder navigation in list mode
• Added EXIF orientation flag functionality for auto picture rotate
• Added file size in filename
• Added jump feature to the remote: While fast forwarding or reversing, if the "Next" or "Prev" buttons
are pressed, video will jump 10 minutes in the respective direction
• Added progress indicator for the duration of the FF or REV function
• Added a blinking status LED behavior while drive is mounting; previously the light just stayed on
• Added sequential .M2TS file playback function
• Added additional subtitle support (SMI, SUB, ASS, SSA)
• Added user selectable font size for subtitle support
• Added song title scroll in music playback to prevent truncation
• Added embedded subtitle display in .MKV files
• Added additional subtitle encoding support for the following: Western Europe (ISO), Traditional
Chinese (Big5), Simplified Chinese (GB18030), Japanese (Shift-JIS), Korean (EUC-KR), Cyrillic
(Windows-1251), Cyrillic (KOI8-R), Greek (ISO); previously only UTF-8 was supported
• Added display sizing menu for photo playback: Fit to Screen, Full Screen, Keep as Original
• Added accelerating scroll speed based on how long the arrow is held down on the remote when
navigating folders with a large number of files; previously only one, constant speed was available
Resolved Issues:
• Resolved issue when 2 drives were connected, then one drive was disconnected, the files from the
disconnected drive still showed up on the file list but were not playable
• Resolved "repeat one" failure during music playback; previously songs would not repeat
• Resolved artist name truncation issue during music playback
• Resolved issue where WD TV would not turn back on with remote after extended period of inactivity;
previously WD TV had to be unplugged and was unrecoverable with the remote
• Resolved image size and position issues during video playback; previously the image displayed did
not fill the screen until the picture was zoomed in and then out again
• Resolved info bar display issues in PAL (European display standard) mode
• Resolved issue of the slideshow playing while in the Option menu during playback, slideshow now
pauses if the Option menu is accessed
• Resolved issues surrounding drives going to "sleep" and folders showing as empty; previously drives
equipped with a sleep feature would not re-initialize before the WD TV timed out and displayed the
folders as empty
• Resolved issues with DVR-MS file playback, FF and REV now function properly; previously FF or
REV during a DVR-MS file would cause the file to stop playing and the video signal to be lost
• Resolved issues with forced resolution changes dropping video signal; previously the signal would be
lost if the user switched between forced resolution and auto
• Resolved photo self re-sizing issue; previously during photo playback the pictures would randomly
re-size themselves
• Resolved Status LED behavior by blinking to reflect accurate read cycles while data is being read;
previously the LED just stayed on
• Resolved subtitle default to "on" issue (subtitles now default to "off", unless there is an external
subtitle file created, then subtitles default to "on")
• Resolved subtitle position issue, the subtitles were moved down towards bottom of screen; previously
during playback of some files subtitles were positioned too high blocking the view of the video
• Resolved the 1-2 second FF during initial playback of .MPG video; previously video would play in
what appeared to be FF for the first 1-2 seconds and then slow to standard play rate
• Resolved video signal failure when pan function in video files with subtitles is used; previously
subtitles would stop functioning, video would stop playing, or TV would lose signal
• Resolved zoom issues while file info is displayed during video playback; previously signal would fail
or video would stop playing
• Resolved zooming issues while subtitles were on; previously the screen used to go black and the
video would stop playing