Western Digital My Passport line updated: 2TB now available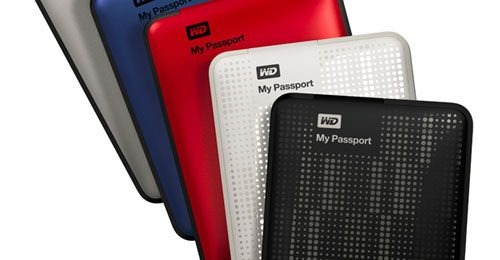 Were those MyBook Thunderbolt Duos not doing it for you the other day? Need something a little more flexible than a Thunderbolt connection, not to mention portable? OK, how about this: Western Digital have announced the first 2TB version in its My Passport portable hard drive range. Not only that, you've got USB 3.0 on board for fast transfer speeds, as well as USB 2.0 backwards compatibility.
The fun doesn't stop there: you get to pick which color you'd like to house your backup of the complete Justin Bieber discography. You have a selection of white, black, silver, blue, and red. Additionally, Western Digital have improved the chassis to make it more resistant to scratches and fingerprints.
Raw capacity isn't the only thing that Western Digital are hoping to entice you with. They also two additional features on board: WD SmartWare, an automatic backup software solution, and WD Security, which will password protect and encrypt the hard drive's contents.
The updated My Passport line is available right now from the Western Digital store. Prices start from $129.99 for the 500GB version, although if you're looking to spring for the 2TB version, you'll have to throw down $249.99 for the privilege. All drives come with a two-year warranty.