Western Digital dishes out world's thinnest 1TB hard drive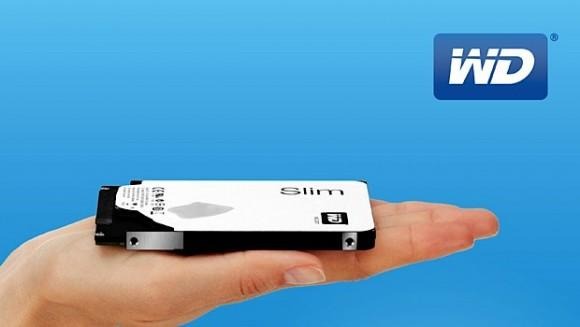 It's not the thinnest hard drive ever, but Western Digital has launched a new 7mm drive that happens to be the world's thinnest 1TB hard drive. The company has added the new drive to its Blue lineup of hard drives, and while it's not the thinnest drive we've seen, it's still a pretty impressive sliver of storage.
Despite its tiny size, there's actually a lot going on under the hood. The drive has motor shafts at each end to reduce vibration and absorb shock, as well as improve tracking. There's also secure parking to keep the heads away from the plates during shocks, and there are electromagnetic and piezo actuators on the inside for more precise movement of all the moving parts.
Western Digital is releasing the drive today to both OEMS and consumers, so not only will you be able to pick up one of these bad boys for yourself, but you'll also see them popping up in new laptops at some point — most likely even during Computex this week, where we've already seen a handful of new machines make their way into the ether.
The new drive is priced at $139 and comes with a two-year warranty, which isn't a bad deal at all. Granted, we've certainly seen cheaper 1TB drives floating around, but if it's a slim drive you're looking for, this 7mm beauty is probably your best bet if you don't mind spending a little more cash for high-capacity, low-profile storage.
VIA: Engadget
SOURCE: Western Digital (MarketWatch)