Western Digital adds new SAS HDDs for enterprise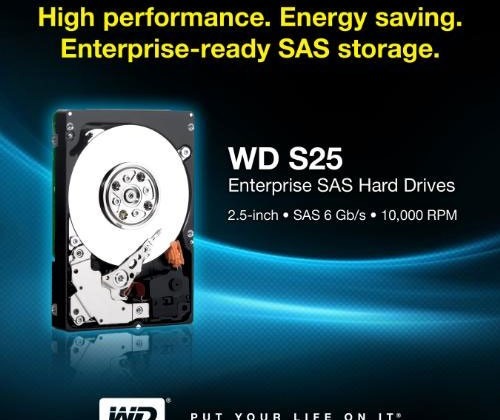 Western Digital has announced that it has added two new SAS HDDs to its line of enterprise storage solutions the new HDDs are both SAS devices and include the WD S25 and the WD RE SAS 3.5-inch HDD. The S25 is a compact 2.5-inch HDD that uses the SAS 6Gb/s interface and comes in 450GB and 600GB capacities. The drive spins at 10,000 rpm for faster data access.
The S25 was previously available in smaller 147GB and 300GB capacities only. WD is also shipping the RE SAS 3.5-inch HDD to OEMs right now. This storage device spins at 7200rpm and uses the SAS 6Gb/s interface for connectivity. The larger 3.5-inch HDD comes in 1TB and 2TB capacities and is aimed at NAS and other storage uses.
WD offers no pricing information on the new HDDs. "Meeting the demands of our customers and IT professionals in the enterprise market is the primary driver of our long-term commitment to SAS drives," said Darwin Kauffman, WD's vice president of enterprise storage solutions. "Our focused strategy in the enterprise continues to ensure that customers who have rewarded WD with their preference of WD drives in other application segments receive the same outstanding values of quality, reliability, performance and availability with WD's SAS drives. It is with that commitment that we are now able to meet a wider set of customer requirements."