With the amount of information available at our fingertips these days, we just can't have enough storage. And more than that, we need access to them anywhere, whether just in the next room or in another city. That is why data storage manufacturers like Western Digital are increasing their line of "personal cloud" solutions, in other words, Network Attached Storage or NAS. Western Digital has just announced four additions to its NAS line, dubbed the My Cloud family, including two from a completely new Business series.
WD's My Cloud Expert series is geared more towards creative professionals and multimedia workers who needs tons and tons of storage. To accommodate that growing need for space as well as performance, the new two-bay EX2100 and four-bay EX4100 NAS boxes are being launched. Although they can hold the same amount of data as their predecessors, the EX2 and EX4, these pair come with a faster Marvel ARMADA processor and more RAM. The EX2100 can handle 4, 8, and 12 TB of storage while the EX4100 can manage double that amount at 8, 16, and 24 TB.

New to the family is the My Cloud Business series, designed for really serious business. Small businesses, that is. The two-bay DL2100 and the four-bay DL4100 support the same 12 or 24 TB capacities, respectively, but exude more power and more resilience that are necessary in an enterprise setting. For one, the boxes run on a more powerful Intel Atom chip and runs the Linux-based WD My Cloud OS. It has loads of features that will delight business owners, including file synchronization, integrated FTP, a WebDAV server, SSH access, Microsoft Active Directory, and more. And to make sure that the NAS runs 24/7 without a problem it has dual power supply ports, dual Ethernet ports, and UPS support.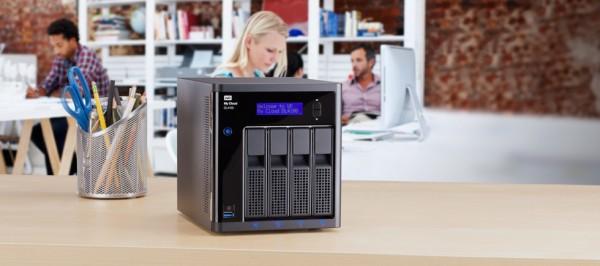 Both My Cloud NAS series support multiple RAID options depending on the model. Naturally, they can be accessed anywhere, even on the go, with the My Cloud app. Aside from immediate storage, the boxes can also be used for backups, supporting the WD SmartWare Pro for PCs and Time Machine for Macs. These boxes also double as streaming centers, accessible through any DLNA/UPnP device.
The WD My Cloud Expert series and Business series are available online and will also be available from retail partners starting March. The Expert series EX2100 has a starting price of $249.99 for a diskless setup all the way to $749.99 for 12 TB. The EX4100, on the other hand, starts at $399.99 without a disk and $1449.99 at the highest for 24 TB. The Business class DL2100 also has a no disk option at $349.99 and $849.99 for 12 TB. Lastly, the DL4100's starting price is $529.99 without a disk, ending at $1,5299.99 for 24 TB of storage.
SOURCE: Western Digital