Wearhaus Arc turns headphones into social devices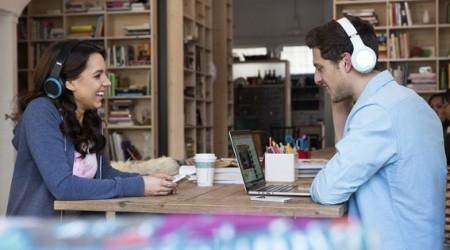 "Social headphones" might sound like an oxymoron, considering that wearing a pair shuts you in and shuts out the rest of the world. But that is exactly what Wearhaus is trying to pull off. Saying that music is also a social experience, they are designing the Wearhaus Arc, wireless headsets that can both let you enjoy your tunes by yourself or, if you're feeling pretty charitable, share it with others around you. And it's also designed to look fancy as well, with customizable LED lights.
Wearhaus accomplishes the social listening aspect of the device by building a mesh network on top of Bluetooth. Being a mesh, there is no single server involved, but of course you do have to initiate the sharing yourself. With the optional mobile app to be released with the headphones, you can create your own personal channel which shows up on other's apps as well. All they have to do is to simply tap on that channel, or alternatively tap on their headphone, to join in.
You aren't limited to just group listening. You can chat with others joining in on the party and they can also upvote your channel. You are free to set the privacy controls of your channels. And for easy identification, those who will be listening in will have the same LED color that you chose for the channel. Of course you can choose your own colors when listening by yourself, or even turn them off completely when you don't like to call attention to yourself.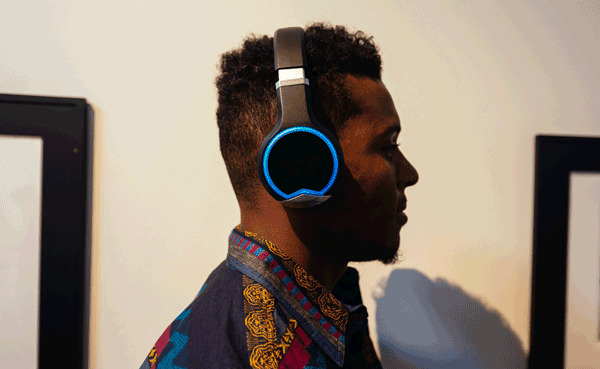 Controlling the Wearhaus Arc is all done using gesture on the touch sensitive surface of the right earcup, which is claimed to feel more natural instead of having to dig out your smartphone or press some buttons. The music broadcasting works at a range of 65 feet indoors and 100 feet outdoors and isn't limited to the music app or service of your choice.
Wearhaus Arc has been months in the making but its creators are taking to Kickstarter to fund the last leg of production process. They have gone slightly above their $50,000 mark and, if all goes well, the first batch of headphones will ship out January next year. One thing audiophiles might find lacking in the headphones is the absence of active noise canceling, a feature that will only get added if the $150,000 stretchgoal is reached before the campaign ends in 26 days.
SOURCE: Kickstarter