WD My Book Thunderbolt Duo drive revealed, Mac compatible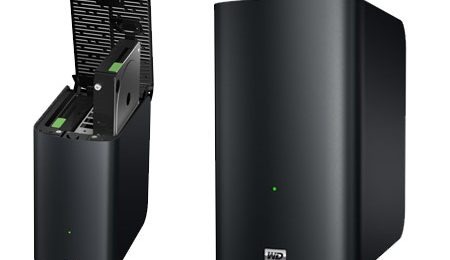 This week we may well be paying more attention to hard drives more than any other sort of Apple-related product announced during MacWorld, and Western Digital is never one to disappoint. The WD My Book Thunderbolt Duo is first up, it working with the Thunderbolt port on your newest MacBook devices. This external harddrive utilizes your 10 Gbps Thunderbolt to access two 3.5-inch hard drives in a RAID O striped array – and wouldn't you know it, it's fast!
This external hard drive will deliver your data to and from it as fast as 2 Gbps (250 MBps), this not quite as speedy as the Thunderbolt technology allows, but certainly as fast as WD's hard drive technology allows. At that speed though, you'll still be able to sent a full HD movie to your hard drive in 30 seconds or less. You can't even get a Jimmy Johns sandwich that fast!
This drive will easily pull the wings off any USB 2.0 drive out there today, and will certainly sit well with video professionals whose job it is to move files back, and forth, and back, and forth all day long. You'll be able to pick up this still slightly unrevealed beast up in 4TB and 6TB capacities relatively soon – price and release date have still not been released, nor has a press image of the device itself. Instead what you're seeing is the My Book Live Duo, a device that will certainly look similar to this newest device when it eventually pops up.