WD intros first 2TB My Passport Studio for Macs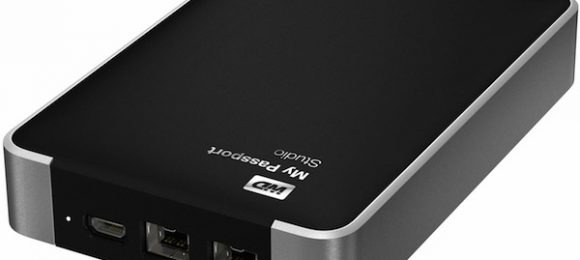 After recently introducing a 2TB My Passport portable hard drive with USB 3.0 for PC users, Western Digital today announced the 2TB My Passport Studio, its first portable storage drive of such large capacity dedicated for Mac users. It works with Apple Time Machine for streamlined data backup, but offers two FireWire 800 ports and one USB 2.0 port instead of the much faster, but also much more expensive, Thunderbolt.
The My Passport Studio drive features a 15mm 5400 RPM hard drive inside and its 2TB storage capacity is enough for about 400,000 photos, 240 hours of video or 500,000 songs. The drive is bus-powered, freeing it from the need of an additional power cable, and its two FireWire 800 ports allow for daisy-chaining hard drives.
Its huge capacity and portability is perfect for photography and video professionals that need a convenient backup solution for both in studio and on location. The minimalist all-metal casing of the My Passport Studio also aesthetically complements any Mac setup. The drive is available now priced at $299.99.
[via MarketWatch]