Waze will soon warn you when you're speeding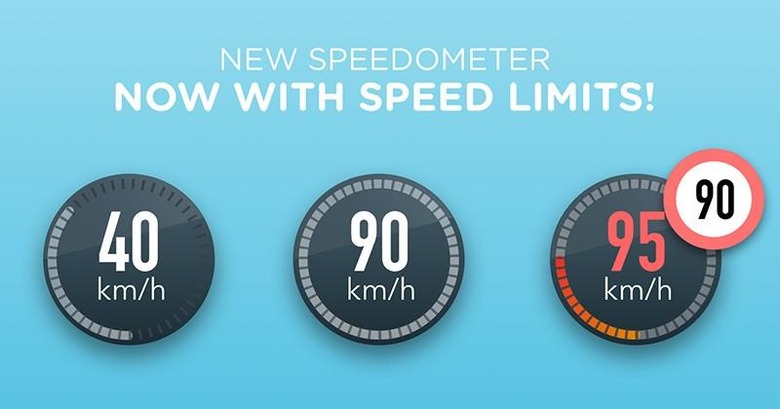 When you're driving around town, and on familiar roads, you probably don't pay too much attention to the speed limit. That's because you've driven on the road so many times that you already know how fast you should be going. But when you're heading somewhere for the first time, you might not always glance at the speed limit signs when you should, and that can easily lead to you getting a speeding ticket. And now Waze wants to help prevent that.
Soon, Waze will start rolling out their new Speedometoer, with Speed Limits. The small circle will inform you of your current speed, and if you've setup alerts, will warn you when you're going too far over the road's posted limit. Whether you choose to listen to that alert is, of course, up to you.
What's nice about the feature is that you can setup when you're alerted to your excessive speed. You can choose to set it to 5 or 10 over the limit (I'm guessing that's in either mph or kph) or 15% over. I like this, because around here, going 9 mph over the limit is just fine, however, 10 over is dangerous territory. While I'm comfortable driving that fast, others might feel that 5 over is more comfortable, and some want to go even higher than I do.
The information on speed limits comes mostly from the Waze Map Editor community, which consists of over 360,000 people who take the time to post corrections to the maps, as well as details such as speed limits. Since the information is crowdsourced, keep in mind that it may not necessarily be the most accurate information available. So keep your eyes peeled for those speed limit signs.
The new update is being rolled out in the following countries: Austria, Belgium, Brazil, Colombia, Czech Republic, El Salvador, France, Hungary, Italy, Latvia, Liechtenstein, Netherlands, New Zealand, Sweden, Switzerland, Trinidad, Tobago and Uruguay. No, the US isn't currently on that list. They plan on rolling it out to the rest of the world "soon."
Source: Waze