Waymo's early riders are falling asleep in its driverless cars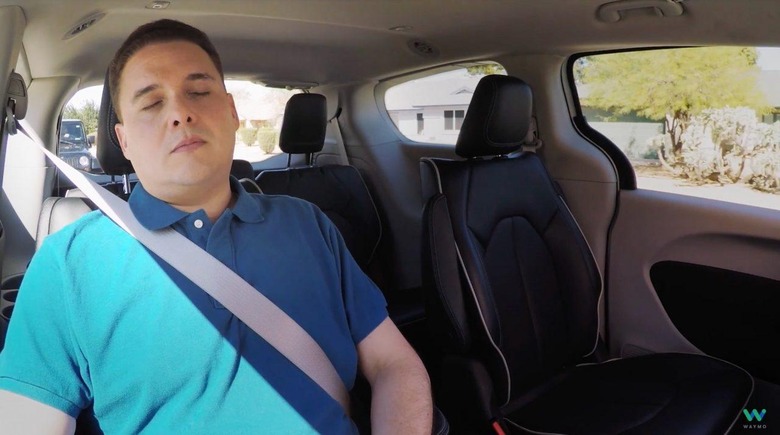 Waymo has shared video of the first experiences of early riders in its self-driving cars, and anybody hoping for horror or white-knuckle excitement will probably find the whole thing fairly anticlimactic. The Alphabet-owned company, spun out of Google's driverless car research, began trials in Arizona last year, but it's only recently that the state has allowed Waymo to do away with the safety driver altogether.
The result is a car that only has Waymo's algorithms at the wheel. The company has opened up for applications to its early rider program, in the Chandler, Tempe, Mesa, and Gilbert areas of Phoenix. They're able to use the cars for typical daily trips, like getting rides to work or school, or to leisure activities such as the movies.
Waymo says that it plans to gradually expand the program over 2018, and that it hopes "to accept hundreds of early riders." There's no cost for using the cars, Waymo's adapted Chrysler Pacifica Hybrid minivans, and the company is encouraging as much use as possible so that it can see how such vehicles fit best into average life. Although an adult must sign up to the program, anybody in the household – including children – will be allowed to ride in the cars.
From the look of Waymo's video, however, the experience might quickly become a fairly underwhelming one. While there's clearly some excitement to begin with, when the autonomous cars first pull away and begin navigating by themselves, as the footage shows it's quickly replaced by more pressing matters: checking out a phone, taking selfies, or just catching up on sleep.
That likely comes as welcome news to those who worried that driverless vehicles might struggle to find mass-market adoption. Of course, this isn't exactly an average audience. Being an early rider involves putting yourself forward to participate in the program, and suggests a general comfort level with the idea of a self-driving car that could well be higher than typical.
Nonetheless, the willingness to doze off and generally leave the vehicle to its own devices, even at this very early stage, implies Waymo is getting the experience right in some way. While details of the exact riders in the video aren't shared, there's a broad range of participants from kids – who might ordinarily need an adult to chauffeur them – to older riders, who might find themselves running into health or eyesight issues that prevent them from driving manually. They're just the sort of groups that Waymo has long said could benefit from autonomous transportation.