Watchmakers going after pirated smartwatch faces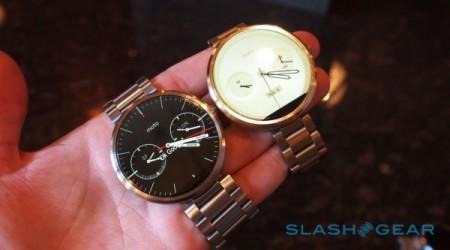 A word of caution: if you've fallen head over heels for a smartwatch face recently, it might be time to reevaluate your admiration. How your smartwatch looks, at least when it's not doing smartwatch-y things, may soon change. While we like smartwatches for their contextual awareness and ability to force-feed us notifications, we still want a watch. To accomplish the look of a "real" watch, some smartwatch software designers and Developers actually borrow from existing, often high-end watches.
That's not okay, say the designers of those watches. Bronds like Omega, Panerai, Swatch, Armani, Michael Kors, Certina, Mondaine, and Tissot are teaming up to expel "pirated" watch faces from your smartwatch.
The parent company of several of these brands, Richemont, is apparently leading the charge (they're not alone, nor do they represent all companies involved). The umbrella complaint is that digitally copying the watch faces violate trademarks and/or copyrights already held by a watchmaker.
Watchmakers have already begun sending cease and desist letters to offending software companies. There are several apps and portals for loading custom (sometimes copycat) watch faces to your smartwatch, though no specific site or app seems to be targeted here.
This was bound to happen, at least to some degree, but it's also a shell game of sorts. Like any form of intellectual property, a slight alteration can be construed as original. A different font for the watch face numbers, for instance, may make the offending face "original".
Even with changes, there's nothing like the real thing, and that's what watchmakers are guarding against. If you want your wrist to look like it has a Panerai on it, you're going to have to pay for that privilege.
Source: TorrentFreak