Watchmaker Ulysse Nardin unveils Freak Diavolo Rolf 75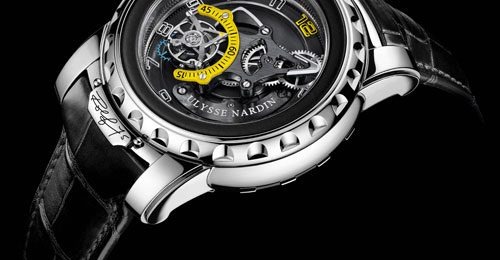 I don't even wear a watch and I want one of these new Ulysse Nardin Freak Diavolo Rolf 75 watches bad. This thing is one of the coolest looking watches I have ever seen. The Freak was designed to celebrate the 75th birthday of the owner and president of the Ulysse Nardin company Rolf Schnyder.
The watch will be limited edition with only 75 being made and sold globally. The watch is said to be an evolution of the Freak made in 2001. The new Freak has a devilish appearance according to the maker with a power-reserve back and red horns with a floating black backdrop. The watch has no true dial, crown or hands.
It is wound by turning the lower bezel and the time is adjusted by turning the upper bezel of the watch. The case of the watch is made from platinum and the band is black crocodile skin. Pricing on the watch is unknown, but it will be expensive.