Watching Your TV Bed - Hollandia Platinum-Luxe Elite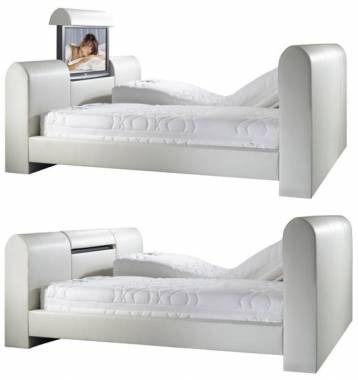 Watching TV in bed just got a whole lot easier with the TV bed, that's right, the TV is built in. Personally, I prefer my TV on the ceiling. Hollandia International, who are known for luxurious, restful, and expensive sleep systems, have made the next obvious step in bed design.
This system sports a 32 inch Sony Bravia HDTV right in the footboard, but that's not all. You'll get a Sony Bravia theater system which includes a five disk DVD/CD changer, five speaker surround sound and a subwoofer conveniently located under the bed. Oh, and there's also and iPod docking station.
The bed itself is adjustable, you can lay down or recline, and it even has an intergrated massaging system with 12 individual massaging programs and a 30 minute automatic shutdown. The base is covered in Italian designed fabric and 100 % synthetic fiber. You have your choice of colors between white and gray, ok so not much choice there but with what else you're getting who cares what color it is?
This is officially my dream bed. The CEO of Hollandia International has been quoted as saying, "We want Americans to stay in bed," well, give me that bed and I will.
TV Bed Powered with Subwoofer & iPod Dock [via Born Rich]