Watch the Tesla Model 3 crash tests that won the EV five stars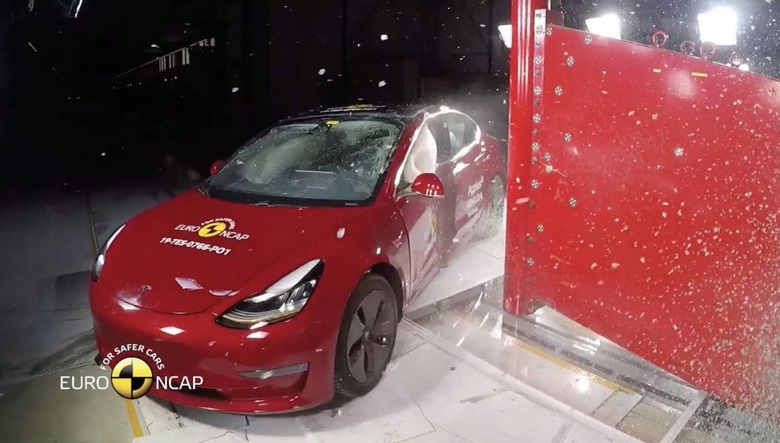 The Tesla Model 3 has aced European crash safety testing, with the most affordable car in the EV automaker's line-up grabbing five stars out of five after Euro NCAP put it through its trials. The 2019 Model 3 scored a whopping 96-percent in adult occupant testing, while Tesla's safety assistance systems like automatic emergency braking came in only shortly behind that, with a score of 94-percent.
The Model 3's child occupant rating was 86-percent, while the testing organization scored the electric sedan 74-percent for vulnerable road users like pedestrians. The car tested was the standard Model 3, with no extra safety tech added.
It puts the Model 3 in ninth place in Euro NCAP's 2019 ratings for driver protection, fourteenth place for child protection, eleventh place for pedestrian protection, and first place for safety systems. So far, Euro NCAP has only tested one other all-electric 2019 model year car, the Audi e-tron. That scored 91-percent in driver protection, 85-percent in child protection, 71-percent in pedestrian protection, and 76-percent in safety systems.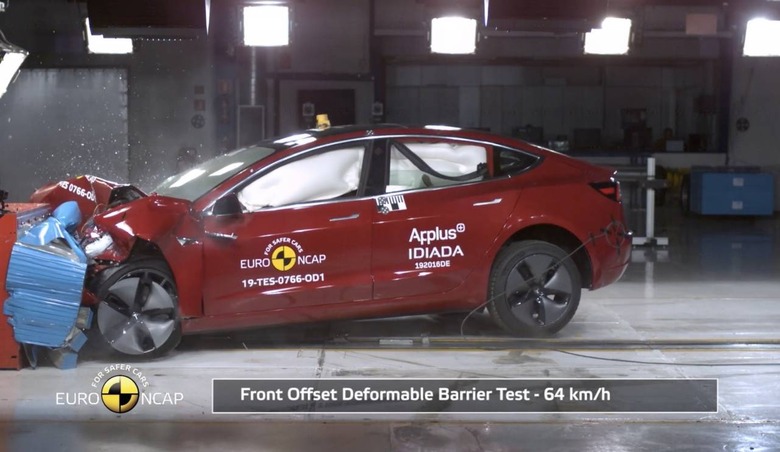 Although most people associate crash testing with a car being propelled at speed – and coming off worse for wear – into a concrete block, in reality the process consists of a number of trials. To get a good Euro NCAP rating, for example, there are four main crash tests that a car needs to do well in.
First is the frontal impact test, with the car hitting a rigid barrier. The offset frontal impact test, where 40-percent of the width of the car strikes a deformable barrier, is arguably more representative of typical crashes, some experts say. That's because it more closely replicates what happens when two cars have a glancing collision.
Then there's the pole test, where the vehicle being tested is propelled sideways into a rigid pole. Finally, the side impact test sees a mobile deformable barrier impacting the driver's door. Euro NCAP then runs a series of pedestrian tests with different sizes and shapes of impactors, body part forms designed to replicate adult and child bodies, and whiplash testing.
It isn't a completely clean sweep, mind. Euro NCAP flags some missing safety equipment from the Model 3, like knee airbags, Isofix support for a child seat in the front passenger seat, and no active hood that would pop up in the case of a pedestrian collision. Mitigating that last point somewhat, the testing suggested that the Model 3's automatic emergency braking system "performed well" in reacting to pedestrians in the roadway.
"Its performance in the Safety Assist tests particularly impressed," the testing organization says, "thanks to its superb driver assistance systems like lane support, speed assist and autonomous emergency braking. The Tesla's 94 percent score in 2019 Safety Assist tests is the best yet under Euro NCAP's most recent protocol."
All in all, it's another vote of confidence for Tesla. Four new cars have been granted the maximum five stars from Euro NCAP today, with the Model 3 joining the Skoda Scala, the Mercedes-Benz B-Class, and the Mercedes-Benz GLE. Two further cars – the Kia Need and DS 3 Crossback – achieved four stars with their standard safety package, rising to five when options were added.
The Skoda – not available in the US – actually beat the Tesla in overall crash performance, scoring 97-percent in adult occupant and 87-percent in child occupant testing. It also beat the Model 3 when it comes to vulnerable road users, with a score of 81-percent. Only in tech did Elon Musk's car pull ahead, with the Scala scoring 76-percent. Not bad, when you consider the version of the Skoda that Euro NCAP tested was priced at just over 20,000 euro, less than half the price of the Model 3.