Watch the Overwatch Puppy Rumble: Live, here, today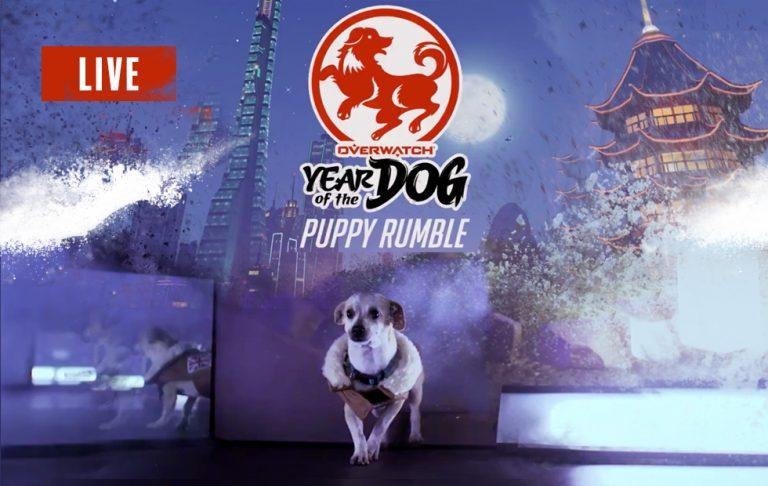 On the 19th of February, 2018, the folks at Blizzard responsible for promoting Overwatch released the dogs. As it was a time to celebrate the Year of the Dog, and Overwatch is rolling in the dog-related gear, they decided to bring some real dogs into the mix. This was the Overwatch Year of the Dog PUPPY RUMBLE, and it was set to be glorious.
Whether you were an Overwatch fan, an Overwatch player, or had never heard of Overwatch before the moment you'd read this article, the Puppy Rumble was an event not to be missed. Much like the dog adoption event Puppy Bowl, this event featured doggy after puppy of intense cuteness action, all shown live in full effect.
In Overwatch, every dog has its day.
2.19.18 pic.twitter.com/5oWvxuFB7r— Overwatch (@PlayOverwatch) February 17, 2018
The event took place Monday, Feb. 19 at 3pm PT / 6pm ET, and it was broadcast through Twitch. Above this paragraph is the preview video as posted to Twitter. There you'll see what the Overwatch crew used to promote the event, in all its fireworks-laden glory.
Puppy Facts:
• All dogs featured on the stream are adoptable through Petfinder or their local adoption agencies
• Those viewers unable to adopt should consider sponsoring one, donating to one of our Puppy Rumble partners, or donating to your favorite local shelter
• Costumes made by the fine folks at Henchmen Studios
Below is the embed. If you're reading this article before or during the event, the embed will feature the doggies as they appear. After the event, once the Overwatch crew posted the full video, the embed will have been switched. Like in the future, but in the past.
This event took place during the Lunar New Year celebration for Overwatch, the game. In the game, users were able to buy a whole bunch of Loot Boxes which contained a bunch of wacky in-game items, new unique emotes, highlight intros, skins, and whatnot. It was a good time had by all.
Once the puppy event took place, we had a whole lot of commentary. For more information on the Lunar New Year action in Overwatch, peek at the timeline below. We've got all the information you could possibly want.