Watch live: bald eagle eggs will hatch next month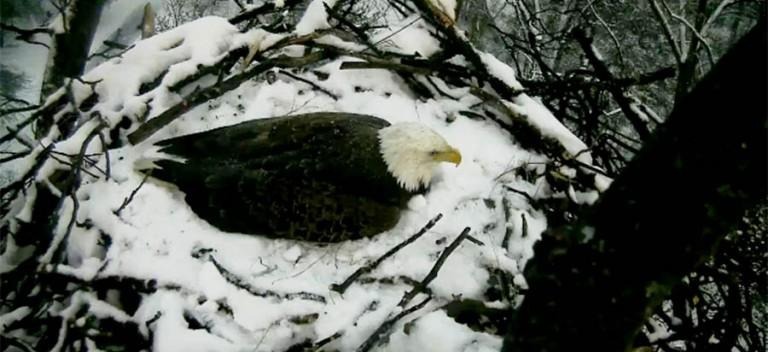 The U.S. National Arboretum and American Eagle Foundation (AEF) have teamed up to install "the most patriotic eagle nest cam" ever — a webcam live streaming from the "Mr. President" and "The First Lady" eagles' nest at the National Arboretum. These bald eagles are nesting in the arboretum in Washington D.C., where "The First Lady" laid the couple's first egg of the year on February 10, then a second egg on Valentine's Day. If all goes as planned, the eggs will hatch next month, and the public will be able to see it happen live.
The mated bald eagles selected their nest's location in a Tulip Poplar tree back in 2014, being the first pair of bald eagles to choose that location since 1947, according to the AEF. For that extra patriotic slant, the eagles were named "Mr. President" and "The First Lady."
The American Eagle Foundation teamed with National Arboretum to install a pair of high-definition webcams at the nest, one pointing directly in it and another at a slight distance. Both provide 24/7 video feeds of the nest, which can be viewed on the Eagles.org website. The AEF expects the eagle eggs to hatch after incubating for about 35 days, which will place the event in mid-March. This pair of birds had successfully raised an "eaglet" last spring/summer.
Said AEF's Founder and President Al Cecere:
The opportunity to sponsor a project of this nature is an honor. Live-streaming cameras that feature our Nation's Symbol nesting in our Nation's Capital...you can't get much more American than that. It's a great addition to our Nest Cam Program and we hope it brings joy to a lot of people.
The video feed is a special one, in that it is in high-definition and the work to set up and operate these cameras was/is hefty. During the eagles' absence in August 2015, a team ran half a mile of fiber optic cable and ran it from the cameras to a control box some 200ft. away from the nest's tree. The system itself is being powered by a big solar array created by Alfred State College School of Applied Technologies students.
Fortunately for the team, the eagles decided to return to this nest, otherwise all of the effort would have been for nothing. If you're keen to see the eggs hatch, be sure to start watching regularly when mid-March starts to draw close.